Nuremberg (Nurnberg)
Before our visit to Nuremberg, when I thought of Nuremberg, the Nuremberg War Trials came to mind. But after our visit there, I will think of the many medieval-styled bridges that criss-cross the city. These bridges and most of the city are reconstructed versions of their original selves, having been rebuilt after WWII. We walked along the Pegnitz River slowly making our escape from the tourist area and crossed 8 or 9 medieval-styled bridges, all uniquely decorated and with their own stories. Some bridges had apartments on top of them which people lived in. Nuremberg also has a town wall, with some parts of it being lived in by people. They too have re-purposed their moat, making skateboard parks and playgrounds in it.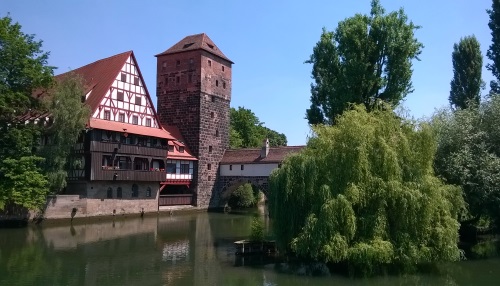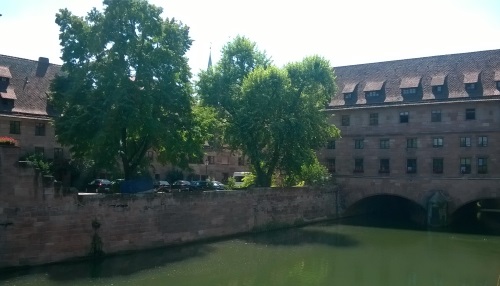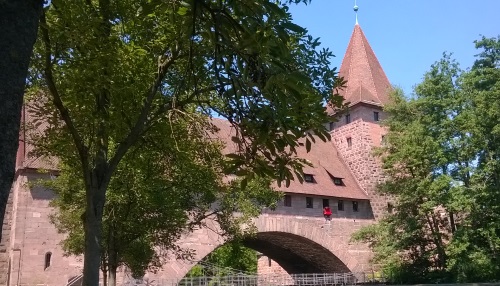 Medieval-Styled Bridges in Nuremberg, Germany
Nuremberg has two old towns: St Lorenz and St. Sebald. St Lorenz has an old church by the same name. We didn't get a chance to explore St. Sebald but I hear there is a castle there to explore. There were also many old castle-looking buildings with courtyards, functioning as guest houses and apartments.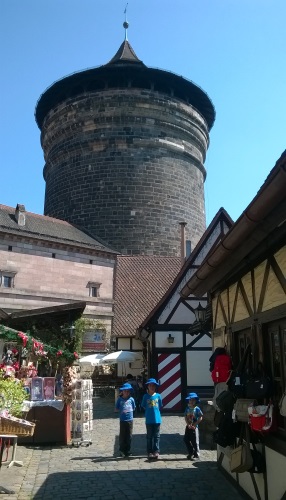 Craftsman Village at Nuremberg, Germany
Along the river, there is an island that periodically hosts festivals. When we were there, there was a summer festival being held with white sand, palm trees and water bars (where you need to get into a pool to buy drinks). In the tourist area, there are many riverside restaurants, shops and gelatorias. There are also many cafes along the way selling pastries and Nurnberg Brats. Near the entrance of the town there is a Craftsman village that sell wooden puppets among other things (but not at the best price.)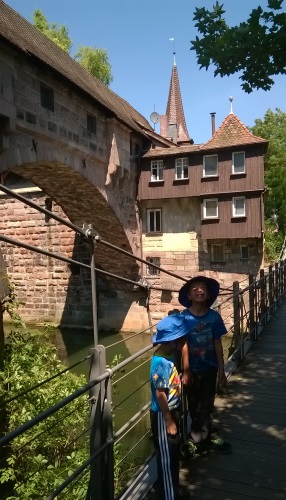 A footbridge in Nuremberg
Our trip to Nuremberg was (dare I say) a spontaneous one, so we missed out on at least a few significant sites and its history. For what we did see on our short visit there, we enjoyed the city and its architecture. If you plan to go to Nuremberg, I would recommend doing research into its history and interesting sights to see.