Mittenwald
Our first weekend stop was at a colorful small Bavarian town named Mittenwald. Mittenwald caught my attention because of a hike on a see-through metal bridge high above the gorge Leutaschklamm at rather dizzying heights. The hike from Mittenwald town to Leutaschklamm was about 1 hour each way.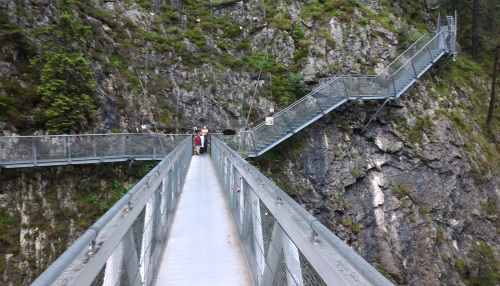 Leutaschklamm Metal Bridge at Dizzying Heights, near Mittenwald Germany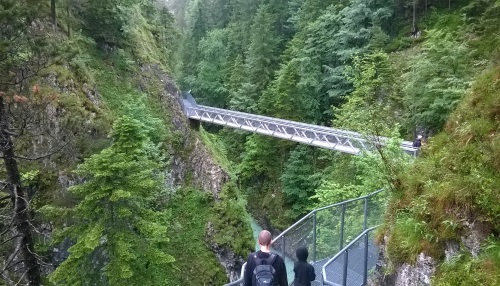 Leutaschklamm Metal Bridge over Gorge, near Mittenwald Germany
After the heart-stopping hike (from the perspective of a slight acrophobe), we walked through forest trails to the teal colored Isar River and followed it to a small town in Austria. The trail took us through open fields, past barns and behind backyards. It was a fun way to get a feel of the German countryside.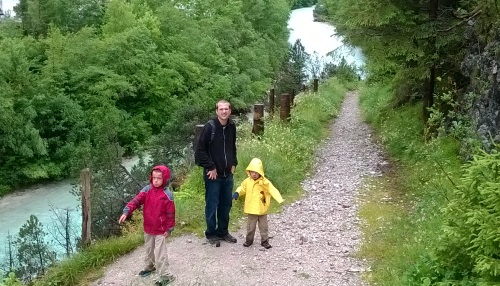 Along the River Isar, near Mittenwald, Germany
On the way to Austria, we stopped by some ruins, Porta Claudia, located high above the Isar. Porta Claudia was used as a watch tower in the 1600s to watch for approaching enemies. It was a beautiful way to see the teal blue Isar making its way downstream. We could have taken the walk back to Mittenwald, but I had planned ahead and bought train tickets back. One of those times I wish I hadn't. The walk was about 1.5 hours one way from Mittenwald to Scharnitz, Austria. The train station was not open that Sunday, so there was no way to purchase tickets, if we had wanted to take a train ride back.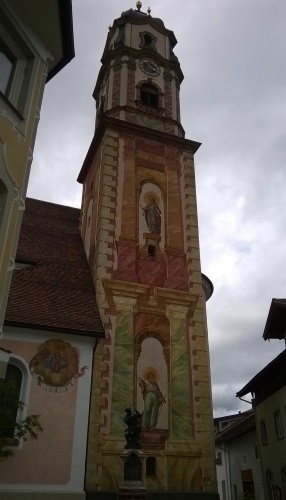 Painted Fresco on Church Tower, Mittenwald Germany
When we got back to Mittenwald, we had a couple of hours to kill. We were excited about that! Mittenwald is a quaint town with almost all the buildings boasting colorfully painted frescoes, so well done that it looked three dimensional. When we arrived there in the morning, even through the pouring rain, I realized we had to explore the back roads of this town. So we wandered around, looking for bakeries and small shops to purchase souvenirs from, and enjoying the wonderfully painted frescoes. Mittenwald was the prettiest German town that we saw.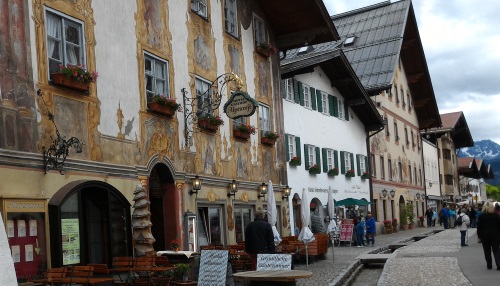 Main Street, Mittenwald, Germany
The ride there was an easy 1.5 hour train ride from Munich's central station (Hauptbanhof). It qualified for the budget-friendly 28 EU return train trip for our family of 5.