Lake Constance, Baden-Wurttemberg, Germany
Lake Constance or Bodensee, by its German name, is the third largest central European lake that lies in 3 different countries (Switzerland, Germany and Austria), though no official border exists. The River Rhine flows into it. It is the source of drinking water for its surrounding area. Lake Constance offers boat rides for an economical price to its islands and shores. It is a popular (read busy) for German families on vacation, as we found out.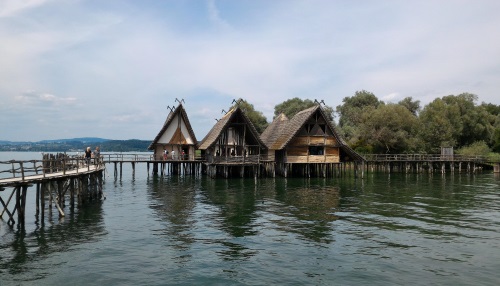 Pfahlbauten Stone Age Stilt Houses (reconstructed) on the shores of Lake Constance, Germany
Pfahlbauten Museum is a reconstructed village of Stone Age stilt houses based on stilt remains found near the shores of Lake Constance. It was interesting to see a primitive version of Venice, a village on the water. There was no English tour available when we went, so we had to join the German tour. We felt like we missed a lot of information due to the language barrier. It is still beneficial to follow a tour group because tour guides unlocked doors to some huts. There were English signs on huts for our reading pleasure. The huts displayed different parts of daily life of its inhabitants 3000 years ago, from cooking huts to living quarters to funerary preparations.
We made the trip to Lake Constance by rental car. My husband got a taste of driving on the AutoBahn - the famous highway with no speed limit. In reality, only small portions of the highway had no speed limit, but in our experience, speed was limited by natural curves on a two-lane roadway. The roads that we drove on were in decent shape. As usual, it gets a little stressful driving/navigating while not knowing the local language/road signs.