Berchtesgaden, Germany - Summer Luge
Berchtesgaden sits on the border between Germany and Austria. There is both a town and a National Park by the same name. The attraction for us in Berchtesgaden is the summer luge ride (sommerrodelbahn - link is in German, I used Google Translate). At 2.50 EU per ride, it is hard to resist. There is a family ticket that allows 10 rides for 16 EU, which would have been our ticket of choice had we had more time. The old cable car ride (Obersalzbergbahn), though a little scary, (spoken by an acrophobe), afforded us beautiful views of Alps, as did the luge ride. You can hike or take the cable car to top for 10 EU both ways. 13 EU buys a person a cable car ride both ways, and 3 rides on the luge. I highly recommend getting the 13 EU package, because one ride is not enough. The only unfortunate thing is that they didn't allow bags on the luge, so we had to leave our bags in an unsecured place at top of luge run - which unfortunately prevented us from taking pictures of us actually being on the luge. Prices above are as of July 2015.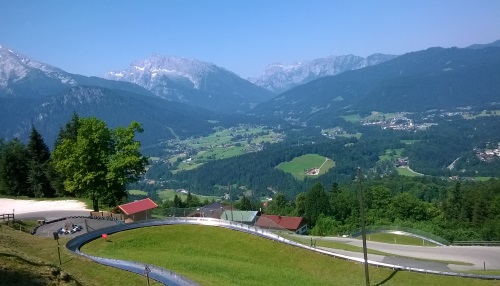 View of the Alps from Summer Luge Ride, Berchtesgaden, Germany
View from Cable Car Ascending to Summer Luge Ride, Berchtesgaden, Germany
If Berchtesgaden sounds familiar, it is because Hitler had a retreat there, called the Eagle's Nest, along with a Documentation Center turned museum. The Documentation Center provides more information on that part of Berchtesgaden's history.
Other things that are popular is the Konigsee, a beautiful blue glacial lake, the lake cruise on it and the St. Bartholomew Church. There is also a cable car to the top of the mountain for an overview of Konigsee at the bottom called the Jennerbahn. The Jennerbahn is a little more expensive than the cable car to the summer luge. Berchtesgaden also has an old town that is picturesque, I hear. There are lots of hiking opportunities in the area too, but we elected to explore Salzburg instead, due to time constraints.
The trip to Berchtesgaden was a 2 hour ride from Munich, with one connection. The Bayern Day ticket for 28 EU for our family of five took us to both Berchtesgaden then Salzburg, then back to Munich at the end of the day.