Lavender Fields of Valensole and Gorge du Verdon
Lavender Fields of Valensole
We stayed in an Airbnb in a small cobblestone village on a hill called Beaumont-de-Pertuis as a base to explore the lavender fields and Gorge du Verdon. Beaumont-de-Pertuis is a quiet town of young families and beautiful views of surrounding vineyards where the grocery store and boulangerie took a 4-hour siesta break and were closed by 7pm. We had hoped to encounter some lavender fields around this little town, but when that didn't pan out, we ventured towards Valensole.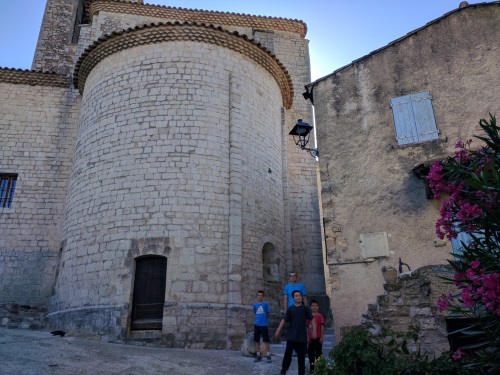 Exploring in Beaumont-de-Pertuis, France
As we approached Valensole from Manosque, lavender fields covered the landscape. We stopped at a spot that had quite few tourist buses thinking that this was the best spot for walking through lavender fields. What were we thinking. The fields were big enough so that we could venture a little away from the the crowds. Little did we know, this was the spot where many pictures of lavender fields were taken with two lone trees in the horizon. The good thing about being in a tourist spot, is that there are stalls of souvenirs for purchase. We got our hands on some lavender soap for 3EU, which was surprisingly mild to the nostrils.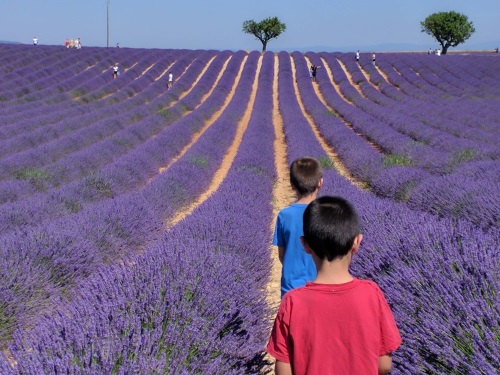 Rows of lavender, near Valensole, France
After the fields, we ventured to the town of Valensole then out into the adjacent fields where more lavender rows adorned the roads to the left and right but with less crowds.
Gorge du Verdon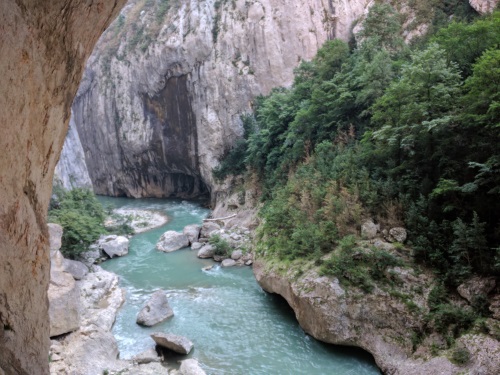 View of Gorge du Verdon from one of the tunnels
Gorge du Verdon is a gorge filled with blue green waters flowing into the dammed St. Croix lake below. Lac Saint Croix has beaches and pedal boat rentals if you are so inclined. Our hike was 13 miles return, sometimes on rocky slippery terrain. We hiked on Sentier de Blanc Martel, starting at Point Sublime and hiking towards Chalet de Maline. Coming from Point Sublime, after the road portion, our hike started out under shade, thanks to some tall vegetation. The entire hike had peek-a-boo views of the blue-green waters in the gorge below. There were at least 3 tunnel portions, most with ankle deep water puddles, some intermittent, some continuous. Most had rocks that could be used to rock hop to avoid the water. We managed to soak our shoes despite our best efforts to rock hop through sometimes continuous puddles. There was at least one long tunnel portion that felt like it went on for 1 km (we couldn't verify with our devices as it wasn't recording in the tunnel). Having said all that, definitely bring flashlights or headlights. At least one light source per person would be ideal but we managed with 2 flashlights in our family of 5.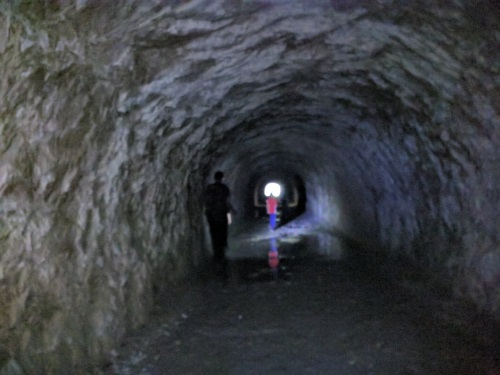 One of the tunnels along Sentier Blanc Martel, Gorge du Verdon, France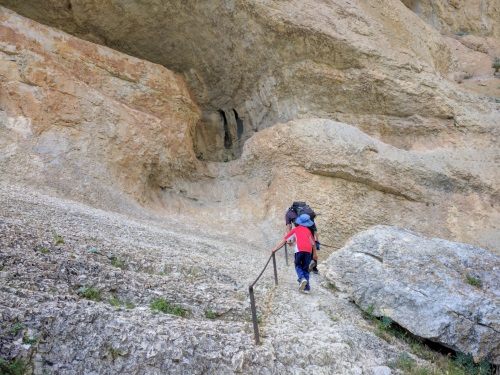 Along the trail at Gorge du Verdon, France
Outside the tunnels, there were portions where handrails were provided to help maneuver the bare rock. From afar, it didn't always look necessary, but as soon as we got on the rock we realized that the rock was slippery. The handrails were a welcome guide. We ended our hike at Brech Imbrecht, going up the 240 or so metal stairs. We decided to end our hike after lunch just after the stairs and headed back towards Point Sublime.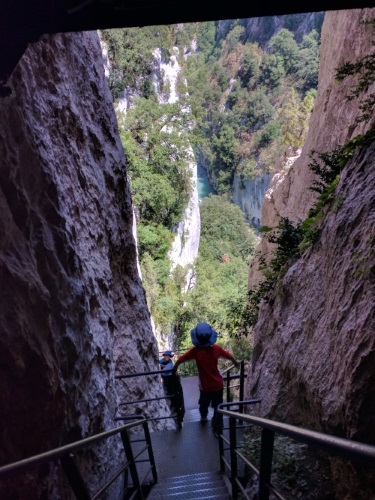 View from the metal stairs at Brech Imbrecht, Gorge du Verdon
We did stop by the gorge waters to cool down on our way back. Just touching the water with our hands cooled us down sufficiently to continue on. Many parts of the gorge had rough waters, so play at your own risk. The hike itself was pretty hot and humid, alternating between shade and no shade.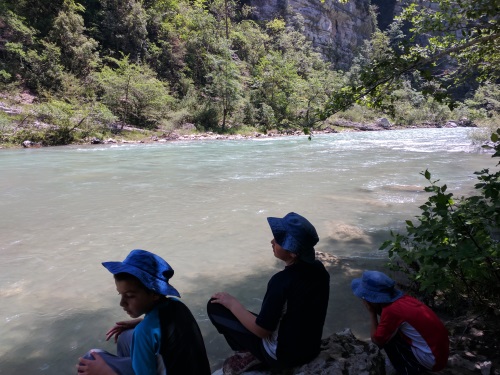 Cooling down at the Verdon, France
The small parking lot at Point Sublime filled up by 8:30 am on the July Sunday that we visited; luckily we arrived at 8:15 am and had no trouble. We followed Sentier de Blanc Martel signs which took us for a very short time on the street. We noticed on our walk that there was limited on-street parking near Couloir Samson if you're looking to reduce distance. Be careful not to miss the trail down, just before Couloir Samson (coming from Point Sublime); we went towards the river where the trail was closed off (though my husband did not believe that it was closed). He explored further though we highly do Not recommend it; the trail looked narrow and slippery from where I stood and hubby tells me that it ended at a gushing river with a falls not far below. I should also warn you that you will come upon warning signs indicating that it is very dangerous to hike along the Gorge due to changes in water levels without warning. Hike at your own discretion. Many hikers park at Point Sublime, take the narvette (shuttle) over to Chateau Maline, then walk towards Point Sublime for a 9-10 mile one-way hike. I had read that the narvette was usually very full and was standing room only. I was not ready to fight the crowds with 3 kids. The other option is to reserve a taxi for the ride to Chateau Maline. I inquired about it and was told the ride would cost 50 EU for the one-way ride. Not wanting to reserve ahead (in case our plans changed) nor risk standing room only transportation, we decided on walking 6-7 miles one way then heading back.
Practical Information (as of June 2018):

| | |
| --- | --- |
| Features: | Peek-a-boo views of blue-green water rushing in the gorge, trail crosses many shaded areas by trees and rock overhangs, tunnel hiking |
| Our hike: | from Point Sublime to Brech Imbrecht up stairs, 13 miles rt, 2600 ft elev gain. Two to three tunnels, one very long (maybe 1km?), Very dark (absolutely need flashlights), wet, ankle deep water with some smallish rocks to hop on, 240 dizzying metal stairs at Brech Imbrecht. |
| Fee: | Free |