France: Quirks and Perks
Boulangeries aka bakeries are found at almost every street corner in the city. In the smaller towns, there is usually at least one boulangerie that serves the needs of the townspeople. Boulangeries offer fresh baguettes, croissants and a multitude of pastries.
Wine and Soft Cheeses - Sometimes when we purchase inexpensive wines at home, we paid for it with a headache the next morning. I am glad to report that we had no such troubles with the inexpensive wines we sampled in every region that we visited. Soft cheeses were also plentiful and inexpensive. I particularly loved the mild soft cheeses with a thin rind to spread on my baguette for lunch. Camembert was my favorite.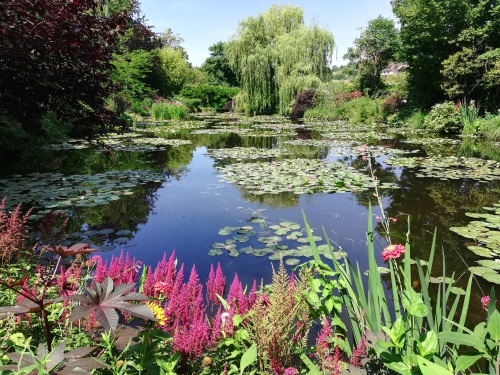 Monet's lilly pond, Giverny, France
Combined Appliances: We came across a few appliances in the airbnb's that we were staying at, that were combined. My husband has been wishing for a combined washer/dryer for probably 10 years now. In France, we saw a couple of combined washer/dryer; unfortunately only one of them worked. In France (and in Europe from our experience), washers take a lot longer to wash than back home, about 2 hours, so having a combined dryer makes it so we don't have to wait around for it to finish washing in order to switch to the dryer. Also, it saves space. Another combined appliance we encountered was the combined microwave/oven. Unfortunately, I was not able to make it work when needed. But such a great idea for space saving.
Cars come in gas (known as petrol or l'essence in France) or diesel (known as gazole, diesel). Be sure to check at rental counter. Cars are smaller than in USA. We really liked it, as long as it had enough seatbelts for the 5 of us. Trunk space was tight but sufficient for our 5 medium backpack carry-on luggages. Fuel consumption was better. Smaller cars mean easier to make turns on narrow roads and easier to park. Most cars come in manual transmission. Refuelling at fuel stations along the autoroutes were usually more expensive (10-15 Euro cents/liter more) but autoroute fuel stations were usually open on Sundays.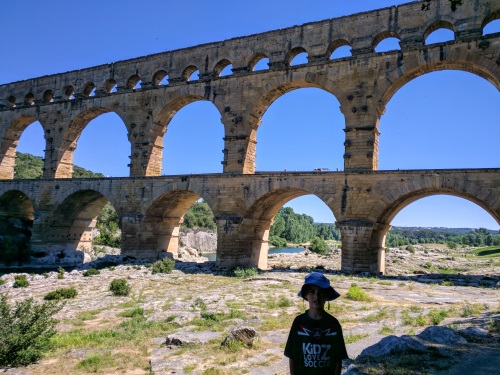 Pont du Gard, near Nimes, France
Roundabouts (aka traffic circles) made me appreciate traffic lights. In our experience, roundabouts can occur anywhere from 10 yards apart to few miles apart. On a road from Pech Merle near Cahors, there were 3 roundabouts practically on top of each other, so much so that, in order to yield to traffic in the third circle, one's car dangled within the 2nd circle. There are additional roundabout complexities: when going into a circle, watch for cars in circle, watch for cars changing lanes in front of you to get out of circle, in addition to pedestrian and bike traffic who seems to have complete right of way . In contrast to the traffic light, where you stop when it's red, go when green, and pedestrians follow their lights which is correctly synced by a master planner. We found ourselves drained mentally after long drives in town or in the country. We gladly paid the tolls ( called "peage") for a faster, less draining ride on roads with no stone houses jumping in front of us every so often. Of course that is just our humble perspective, as North American drivers who have been spoiled by wide toll-free roads in our home country, albeit not always smooth roads. Also watch out for the roundabout with traffic lights that also come equipped with yield signs.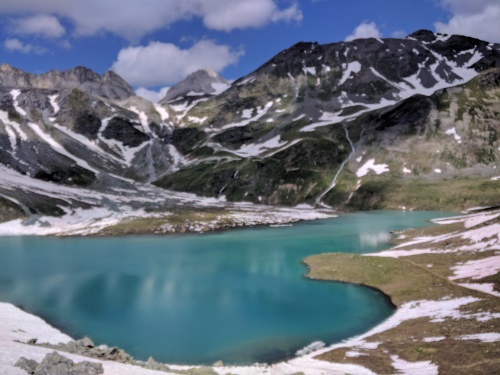 Lac Peclet Polset, French Alps
Toll (Peage) roads - many people will say take your time and explore the country roads. We found the country roads less welcoming due to the many traffic circles and narrow roads (some fitting 1 to 1.5 car widths on a two direction road.) We gladly paid the toll road prices to save some time and sanity. Our most expensive day was 29.60EU from Nantes to Bordeaux which took us on the autoroute for about 3 hours. Most days cost an average of 10-20 EU (total for the trip 270 EU on tolls having driven 6600 km or 4125 miles in our 3-week exploring tour). When at the toll booth, if paying by cash, go into lane marked with green down arrow, which accepts all forms of payment. Take ticket at entry into toll roadway, insert ticket on exit which tells you how much to pay. A couple times, we went through a toll station that charged us a flat rate at entry. Toll roads are indicated by blue signs. If you lose your toll ticket, press the help button. They'll ask you where you're coming from. We were charged 21EU for a lost ticket one day on our forth toll entry of the day.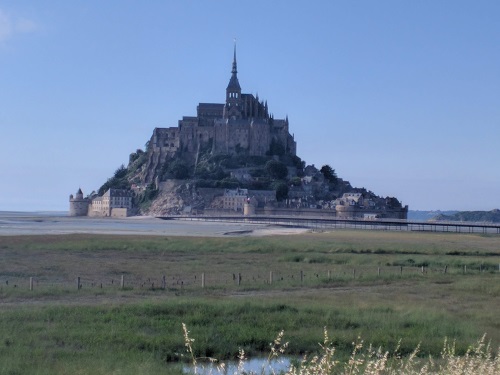 Mont Saint Michel, Normandy, France
Roadways - There are different categories of roads. "A" roads (example A51 - Autoroute 51) are like the freeways that we know in North America. Wide, multi-laned, as straight as the topography will allow and most are toll roads. "D" roads (example D42) - usually two lanes to carry two directions of traffic except when it goes up mountains or within old town centers. Then it can reduce to one lane, but are two way traffic roads. Sometimes in the town, there is a sidewalk. When two cars approach, one will wait the other out when possible, or both will jump onto a sidewalk. When a big bus is approaching, it is usually the smaller car that jumps out of the way. It gets a bit scary when a stone house or two or three line the road edges with no sidewalk. Or there is no shoulder on a mountain road and one faces a big bus head on, and the bus continues to approach expecting that you would just somehow get out of the way. But don't let this discourage you. Our rental car allowed us to go to many places otherwise difficult, if not impossible, to reach by public transport. But both my husband, the driver and I, the navigator were glad to return the car. In general, if you have a choice, don't drive into historic centers. Park outside and walk in. "N" road ex N620 - are somewhere in between "D" roads and "A" roads. In our experience, N roads usually gave each direction of traffic their own lane. FYI: The lines separating the different directions of traffic are white (not yellow). Any road that doesn't have A, N or D designation can be anything from a one lane wide (but 2 directions) gravel road to a narrow winding cobblestone street .
Window screens are non-existent, so flies and mosquitoes have free range. On the up side, no dust accumulation on window screens.
Sunday closures - Just takes some planning ahead for food. Many grocery stores are open Sunday mornings. The toughest part was fueling stations being unmanned, but we always managed to find a highway fuelling station that is manned 24 hours a day.
Siestas and seasonal closures in the Alps - Not an issue in bigger cities and towns. We ran into it in a small town in Provence (Beaumont-de-Pertuis) and in the French Alps (Meribel). Closures vary from 1pm to 3pm, or 12pm - 4pm, most close by 7:30-8pm, if they open at all. We came across many shops and restaurants in Meribel which were closed for the season. Even grocery stores adhere to siesta hours. If coming in summer to the French Alps, most grocery stores are not very well stocked (I'm guessing it's low season?) and prices are high (1.5-2 times the prices of towns away from the mountain). If I were to do it over, I would stock up before getting into the mountains.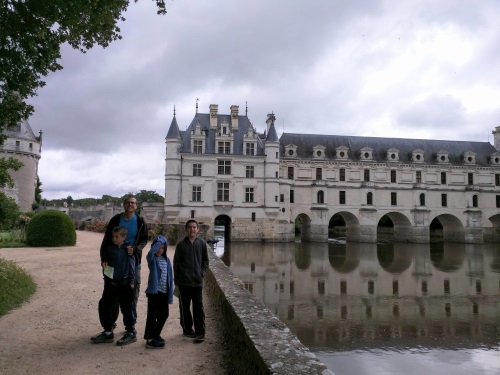 Chateau de Chenonceau, Loire Valley
Adapters: We used plug adapters we used in Germany and it worked great. If possible get adapters that allow you to plug in two devices into the same adapter. Electrical outlets in France tend to come in groups of one and they aren't as plentiful as I would like.
Car adapters - We used the same adapter that plugs into the cigarette lighter in our car at home and it worked f ine with no problems. It was useful to recharge phones on long trips. Our adapter had two charging ports on it, which worked very well, because we always had at least two devices to charge. Our rental car had one port to charge cell phones.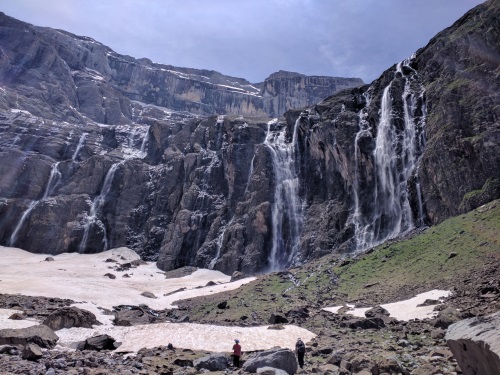 Cirque de Gavarnie, French Pyrenees
Credit Cards: As of 2018, our American credit cards are chip-and-signature cards. Cards in Europe (and most of the world) are chip-and-PIN cards. In most places that are manned (or womanned), there should be no problem. You can insert your card in its card device (or hand over the card to the cashier), and the signature slip automatically prints for you to sign. In unpersonned kiosks, such as an automatic fuel station, kiosks may or may not accept your credit-and-signature cards. Unfortunately, the credit card is the only method of payment it will accept. We were concerned when traveling long distances on Sundays since we did not want to run out of fuel. We were lucky to find a couple of stations that accepted our chip-and-signature cards along the way. We had luck with Total Access fuel stations, AVIA, and Intermarche fuel stations. We also had good luck with credit cards at toll booths run by Vinci and Area though we did use the "all payments" line in case the credit card did not work. Carrefour fuel stations did not accept our credit cards.
Data- We purchased (from three.co.UK) at home before arriving and placed the SIM card into the phone when landed. It cost $30 for 12 GB. Very useful for us since we stayed in Airbnbs which required communication with the host before arrival. It was also helpful to double check our offline GPS (HERE app, available free, download needed regional maps before leaving home and maps will be available offline on the road)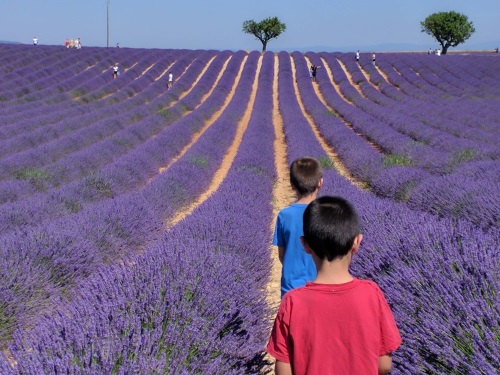 Lavender Fields near Valensole, France
Courteous People - Most places we visited, we were greeted with a Bonjour or Bonsoir whether on the trail or in the towns, with the exception of a big city or two. In all shops, boulangeries, souvenir shops, cafes, museums, we were greeted upon entry. So get comfortable with saying Bonjour. And no matter how annoyed one gets waiting at the cashier's to check out one's groceries, one always says Merci and Aurevoir when one leaves. Unfortunately, that level of courtesy is not always evident when driving.
Despite the sometimes uncomfortable situations abroad, I always appreciate the experience of being surrounded by another culture, landscape and people. As a silver lining, those very uncomfortable moments make me realize the joys and comforts of home that I have often taken foregranted. Now that I have been home for almost 2 months, I am missing the perks of being in France. Like the endless baguettes, croissants and soft cheeses.