Pyrenees, Toulouse and Camargue
Cirque de Gavarnie, Gavarnie (French Pyrenees)
My pictures don't do justice to the scale of the Cirque de Gavarnie in the French Pyrenees. At 8 miles rt with 1400 ft elev gain, it was a nice day hike, after a 3 hour drive from Toulouse. The Cirque de Gavarnie consists of about 12-15 tall waterfalls cascading 1000 feet from the top of the wall to the snowy bottom of the wall. The water from all the falls seem to converge at the bottom, near the Hotel de Cirque, in a blue gushing stream. The cirque also contains Europe's tallest waterfalls at 1385ft, called Grand Cascades, on the left side of the cirque when walking towards it. We met a flock (or two) of sheep along the way.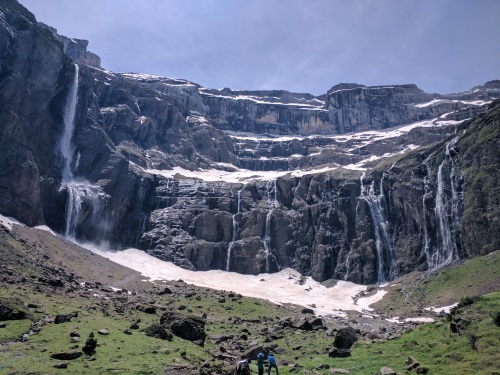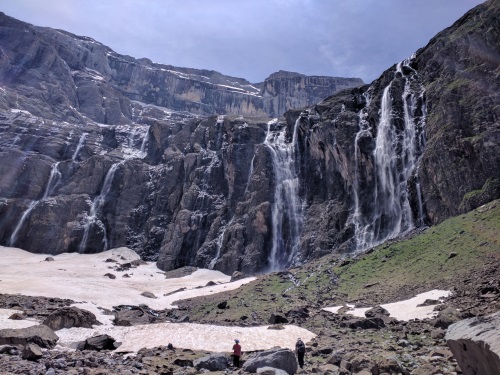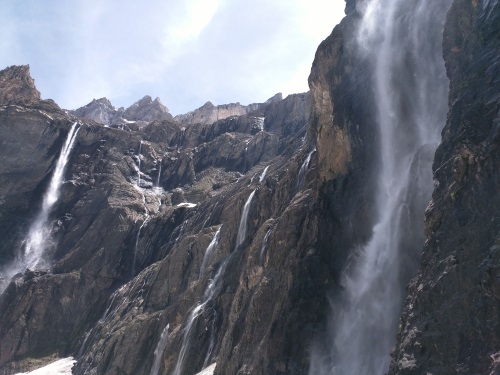 Cirque de Gavarnie, French Pyrenees, France
There were many stores and restaurants open in Gavarnie on the Sunday in late June of our visit. We brought our usual baguette and cheese for a picnic lunch under a tree beside a cascading waterfall. We walked from the parking lot, just beyond the tourist office to the wall of the Cirque between the two widest waterfalls on the right of the Cirque. We felt it's spray as we enjoyed the majestic view of having almost 360 degrees of waterfalls surrounding us. It took us about 5 hours for the round trip including a 20-minute lunch break, and 15 minute enjoying-the-view break, at the bottom of the wall of the cirque.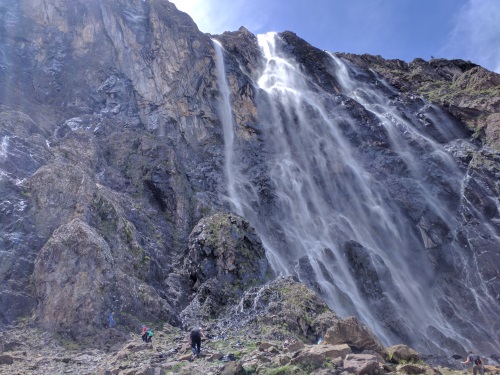 Cirque de Gavarnie, French Pyrenees, France
I read that many fuelling stations are unmanned in France on Sundays. Given that our American credit cards (chip-and-signature; in Europe they are chip-and-PIN) may not work in the self-serve machines, our car fuel situation worried us on this Sunday since it was a 3 hour drive from Toulouse to Gavarnie each way. We found a petrol station AVIA in Aire de Comminges (rest stop of Comminges). The fuel pay station was closed but a sign indicated to pay in the Casino Express next door which was manned during both directions of our travel. In our experience, there were some automated fuel stations that accepted chip-and-PIN credit cards (with a max purchase amount allotted, usually about 100 EU) and others that did not. We had good luck with TOTAL fuel stations and Intermarche fuel stations for taking our credit cards in their fuel kiosk. There was an ESSO station in Lourdes (a town not to far from Gavarnie) that states 24h service on their website but it is fully automated and wouldn't take our chip-and-signature American credit cards. We tried.
Practical Information (as of June 2018):

| | |
| --- | --- |
| Features: | Enjoy the view of numerous waterfalls as they find their way down the cirque wall to form the River Gave |
| Our hike: | 8 miles rt, 1400 ft elev gain from Gavarnie tourist office to the wall of the cirque between the two widest waterfalls to the right; its possible to walk to the Hotel de Cirque and back for a shorter hike. |
| Parking fee: | 5EU |
| Entrance Fee: | Free |
Camargue
Camargue is a region in the south of France that borders the Mediterranean Sea. Pink flamingos stop in Camargue on their annual migratory path. There were many pinkish flamingos in Parc d'Ornithologique de Pont de Gau. Flamingos get their color from the organisms eat. In spring and summer, the birds stop in the south of France to refuel on their way north. In winter, they stop here on their way south for warmer climate. Winter may allow you a glimpse of flamingo courtship displays. The boardwalks in the shorter trail allowed many up-close flamingo viewing opportunities. There were two sets of trails in this park, a shorter one and a longer one. We did the shorter one, and just a little of the longer one. The shorter trail had many more flamingos to be seen.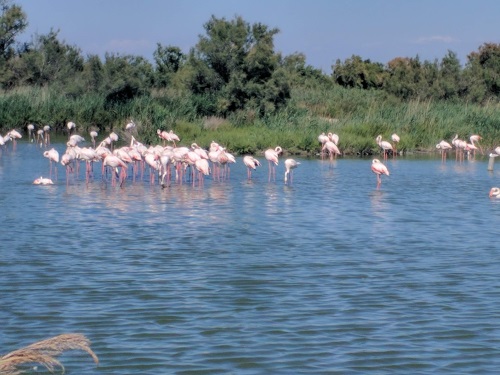 Pink-ish Flamingos in the Camargue
There were also many other species of large birds to be found in this park. We saw many nesting large birds. I didn't realize how large their nests would be, certainly big enough for a human baby to lay in. We also spotted some wild white horses, one with a large bird riding on it's back. We did not see any wild bulls, only domesticated ones behind fences.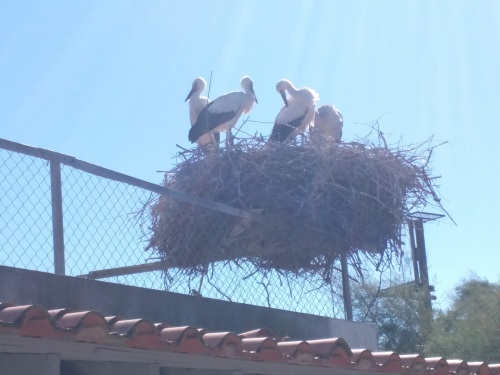 Nesting large birds in the Camargue
Practical Information (as of June 2018):

| | |
| --- | --- |
| Tickets: | 7.50EU Adult, 5EU Kids cash only |
| Address: | RD 570 13460 Stes Maries de la mer |
| Hours: | 9am - Sundown |
| Website: | Parc d'Ornithologique de Pont de Gau |
Camargue Bullgames
We caught our first Camargue bull games in a small town called Beaucaire, about 30 minutes from our base in Nimes. Bull games are often and plentiful in this region starting in July and August. Bull games are different in the Camargue region from bull fighting in that no bulls are killed. Ten men dressed in white try to remove ribbons from bull's horn while being pursued by the bull. The men would climb the sides of the rink to escape the wrath of the bull. Once the ribbons are taken, men try to touch bulls head to get points. Each bull seems to spend a set amount of time in the rink, then leaves the rink to be replaced by another bull. No bulls were hurt in Cours de Camargue, just annoyed. The bulls are given superstar status if he is good at preventing the ribbons from being removed from his horn.
Camargue Bull Games in Beaucaire, France
Starting in July, Camargue bull games are held several times a week for free or almost free. The arena in Arles holds bull games every Monday and Wednesday in the summer (starting in July) for a nominal fee of 5EU.
Practical Information (as of June 2018):

| | |
| --- | --- |
| Tickets: | Free |
| Parking: | Free |
| Website: | Bull Games calendar |
Toulouse
Known as "la Ville Rose" due to the pink bricks used in many if it's buildings, Toulouse has ancient origins dating back to the 8th century B.C. when a group of Celtic settlers called this area home. Many centuries later, the Romans arrived and gave Toulouse a colonia ranking, an honorary title for it's most prized conquered cities, calling it Tolosa. Tolosa was a large enough city to require 2 aqueducts. Tolosa was on an ancient trade route Narbonne-Toulouse-Bordeaux, which contributed to its wealth. A wall was added to Tolosa to strengthen its defences by the end of the 3rd century. Musée Saint-Raymond (near Basilica Saint Sernin) exhibits some of the Roman artifacts found in Toulouse, unfortunately we did not visit. Toulouse was a known Cathar sympathetic city in the 1200s. Catharism was a Christian religion which believed in giving up all earthly pleasures for God. They believed that God is good and strong but evil was just as strong a force. They believed in reincarnation and denounced all material things in the path to spiritual enlightenment. The Catholic Church saw the Cathars as a great heresy. A crusade (called the Albigensian Crusade) was undertaken against the Cathars, killing 1 million people, of both Cathars and Catholics alike, following the words of the inquisitions leader, "Kill them all. God will know his own".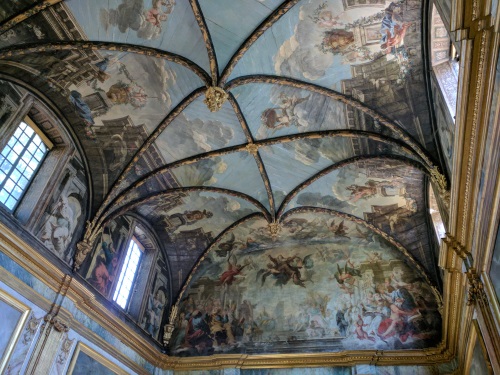 Chapelle de Carmelita, Toulouse, France
Today, Toulouse is the 4th largest city in France, the capital of the Occitanie region, and boasts the second largest university in France. While in Toulouse, we visited the Basilica de Saint Sernin, the largest Romanesque church in Europe. It looked like most churches I had visited in Europe. Our next stop was Chapelle de Carmelita, which had ceilings that looked like a mini Sistine chapel, though it was darker in real life than in the pictures.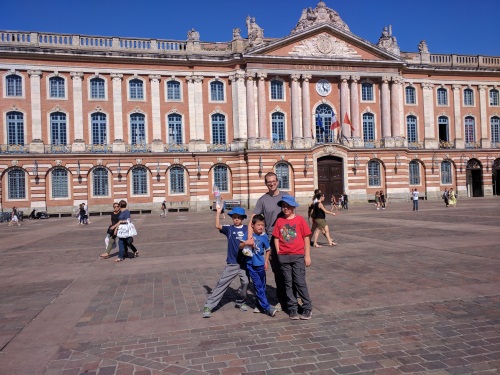 In front of the Capitole building, Toulouse, France
The Capitole building was a pretty building to take a picture in front of, with it's striped exterior. I had read that there were beautiful paintings inside but the building was not open the day we visited. The rest of our time we walked through Toulouse downtown, along the Garonne River, the Canal de Brienne and the Canal du Midi. The Canal de Brienne was built to connect Canal du Midi to the Garonne River. Canal du Midi connected the Mediterranean Sea and the Garonne River (which connected to the Atlantic Ocean). It was an engineering marvel 300-400 years ago, and today it is a UNESCO Heritage Site. Canal du Midi was useful when waterways were used to transport goods. It reduced the distance that cargo had to travel and avoided travel through potentially hostile coastline. It lost its usefulness for trade once railways were invented and goods were transported over land. Canal du Midi is 240 km long with a 70 m rise and 64 locks along the way. There are 250,000 plane trees (Cypress) planted along the sides of Canal du Midi to stabilize the sides from erosion, which makes it a very green space for boating, cycling or hiking. Canal du Brienne and Midi are both located adjacent to the University de Toulouse. University of Toulouse is a large University (about 100,000 students) and built in 1220s, making it as old as Paris' Sorbonne University.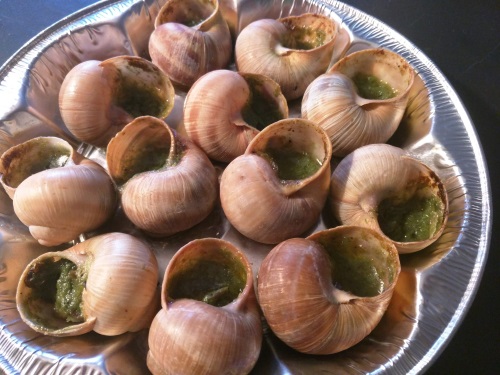 Escargot de la Carrefour in Toulouse, France
We spent about half a day exploring Toulouse on foot. We found very affordable escargot in Toulouse. Our favorite grocery store (Carrefour) sold a dozen frozen seasoned escargot at 2.25 EU. Interestingly, we saw escargot served exactly the same way (in a pesto sauce on a disposable foil plate) later in our trip at the Latin Quarter in Paris for 11EU. Escargot was a treat for my seafood-loving son and myself. The rest of the family found the chore of working the escargot out from the shell more trouble than its worth. Cassoulet, a hearty bean stew with duck and sausage, is another delicacy of the region.