Nimes and Pont du Gard
Nimes
Nimes is an ancient town in the south of France. It was known as the Rome of France in Roman times. Much is left of the Roman era here: a Roman arena, parts of a Roman wall, tower, city gates on a Roman road and a temple or two.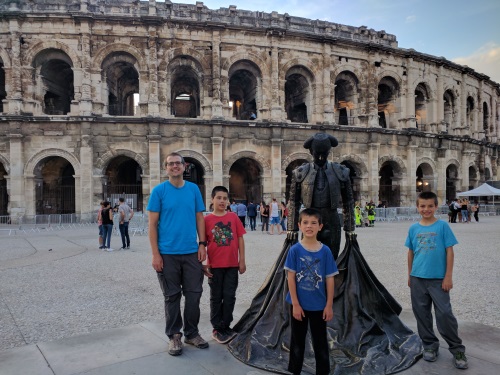 Arenes de Nimes, Nimes, France
Built in 70 AD, the Arenes de Nimes is decorated by 60 arches on each of its two levels and can seat up to 20,000 people. We visited the Nimes arena using an English audio guided tour (whhich was included in the ticket). The tour was lengthy but informative. We learned that the arena has seen many different purposes in its lifetime thus far. It started life as an arena, hosting gladiatorial games and activities. In medieval times, it was transformed into a fortified village, with wells, churches and even a garden on it's roof. By the 1700s, there were 150 homes in the middle of the arena with people living in it. Today, the Nimes arena is used as a venue for concerts. In fact, when we were staying in Nimes, there was a concert taking place as part of the Nimes Summer Fest. We could hear it from our apartment not too far from Maison Carree. Summer Concerts at the Arena also means that the arena is closed to visits in the afternoon before the concert. I have read, in July and August, old town Nimes puts on free outdoor music, markets and vendors on Thursdays evenings. We visited at the end of June.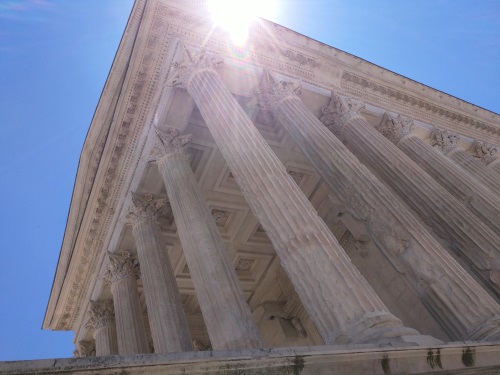 Maison Carree, Nimes, France
Our next visit was to Maison Carree, which is a temple from the 1st century built to honor Emperor Augustus. A 30 minute film is included in the ticket price. Today, it is a meeting place for tourists and locals alike with bistros surrounding it. Another monument we visited was Tour Magne. It is the only surviving tower of the 7 km long Nimes wall. It must have been beautiful in it's day with columns decorating its exterior, though its columns have long been lost to ancient treasure hunting visitors. We walked up the circular stairs to the top for a panoramic view of Nimes.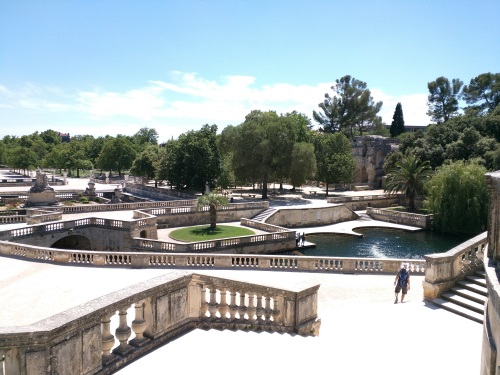 Jardin de la Fontaine, Nimes, France
Jardin de la Fontaine is the first public garden built in Europe. When constructing it, an ancient site was uncovered that was built to honor the goddess of the spring, Nemausus. The Jardin is located just below the Tour Magne and contains the Temple Diane. It is unclear what the Temple Diane was; the current guesses are that it may have been a temple or a library. It did house a monastery in the Middle Ages. On our walk in Nimes near the Jardin, we came across a network of canals, which are part of the Quais de la Fontaine, part of a 50 km aquaduct system bringing water into Nimes from the spring in Uzes, the same aquaduct network that includes the Pont du Gard (more on that below).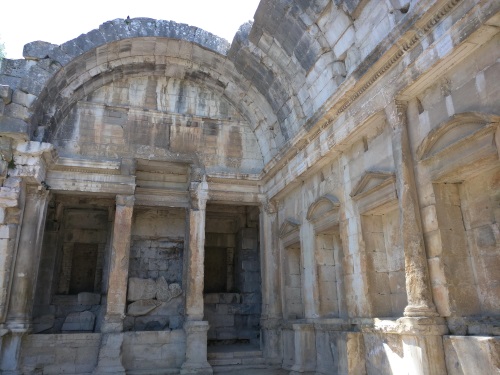 Temple Diane, Nimes, France
La Porte Auguste is one of two surviving gates leading into the ancient 7 km walled city of Nimes. Built around 15 BC, it was the entranceway into the city of Nimes from Beaucaire along the ancient Roman road called Via Domitia. Via Domitia was built around 118 BC, as a road connecting the Roman empire from Rome to Spain. Closer to the Nimes Arena, Porte de France is the other surviving city gate from Roman times.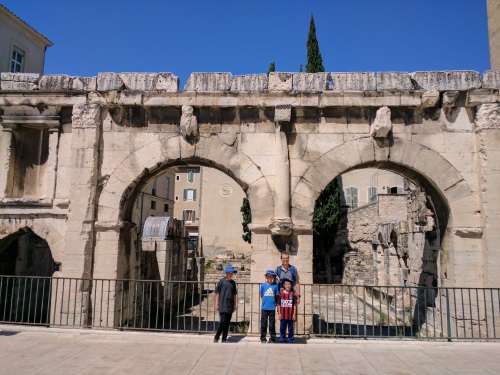 Porte Auguste, one of the gates to the ancient city of Nimes, France
Nimes is also the birthplace of denim jeans. The name "denim" comes from the French words "serge de Nimes", meaning "sturdy fabric from Nimes". In the 1800s, a German-born merchant named Levi Strauss marketed the sturdy material from Nimes, normally used to make tarpaulin (a strong waterproof cloth made of tarred canvas), as material for trousers to be used by prospecting miners. Along with Reno tailor Jacob Davis, they dyed the trousers blue with the cheapest dye available at the time, an indigo dye that came from Genoa, Italy; "Genes" in French. Together they sold these trousers, which became known as blue denim jeans, to the California Gold Rush miners. These sturdy-materialed trousers caught on back in France as well, amongst farmers and rural workers in the 1900s, calling them "bleu de travaille", "work blues". Unfortunately, today there is no more indication of the old textile industry in Nimes. Driving in downtown Nimes was an adventure in itself, but not in a good way. Many one lane roads are used for two-way traffic, as we found out when a bus attempted to go by. We did what the cars in front of us did, which is to jump onto the sidewalk. We learned quickly that we enjoyed downtown Nimes more (and most downtowns in general) if we went on foot. Our rental apartment was in a small square in the historic part of Nimes, so we parked at Avenue Jean Jaures, about 1 km (2/3 mile away). City parking was free from 7pm to 9am. Even though it is free, you are required register your car (by license plate) into parking meters before leaving. Press OK at end to get receipt. Market days are Friday mornings, so there is a section of parking on Avenue Jean Jaures that does not permit parking from Thursday night through Friday, as indicated by the signs posted. For that day, we parked in the underground parking for 15EU for 24 hours.
Practical Information (as of June 2018):

| | |
| --- | --- |
| Tickets: | 40EU for 3 monuments (Arena Nimes, Tour Magna, Maison Carree) in Nimes |
| Website: | City of Nimes |
Pont du Gard
Pont du Gard is part of an aquaduct structure built around 55 AD to transport water from the springs in Uzes to Nimes to provide the people with running water and to power activities of daily living and the Roman baths. The aquaduct measures 50km, transporting water via favorable gradient from Uzes to Nimes. It delivered 35,000 L of water every day. Today, Pont du Gard is made of 6 large arches on the bottom, 11 in the middle and 35 small arches on top. It stands 50m above the Gardon River, and it is equipped with solid pier heads to ensure that it can withstand seasonal flooding of the Gardon River. It has withstood many floods where other bridges have fallen. As water flowed in the aquaduct, calcium built up, about 2 mm a year. After almost 500 years of use, the Pont closed due to lack of flow caused by the calcium buildup. With the Aquaduct Pass, we were allowed to walk where the water once flowed, while being led by an English tour guide.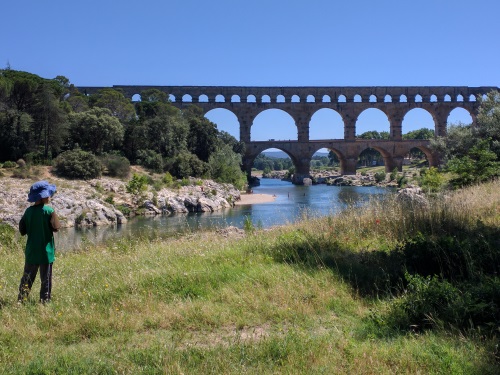 Pont du Gard, near Nimes, France
There are different prices for different passes for Point du Gard. We chose a 30 min tour on the highest level of the bridge (Aqueduct Pass). With any ticket purchase, one would be allowed to walk on the lowest level of the bridge freely. Also with any ticket purchase, one may explore the museum and the Children's Discovery Center. There were trails that lead to remnants of different parts of the aquaduct and to nearby towns as well, as indicated by signs on the other side of the Pont. There is a small "beach" area by the Pont where people waded which also happened to be where canoes and kayaks were launched.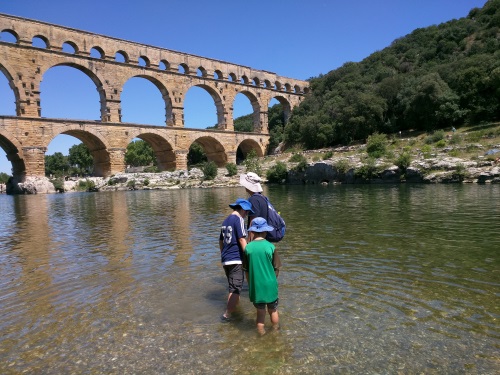 Beach area in the shadow of Pont du Gard, near Nimes, France
Practical Information (as of June 2018):

| | |
| --- | --- |
| Website: | Pont du Gard |
| Tickets: | Aquaduct Pass (family pass): 41 EU (credit card accepted) |