Loire Valley
Chateau de Chenonceau
Chateau de Chenonceau looks different from all the rest. A castle that spans the width of the River Cher, it became a must-see for me after learning that it belonged to the mistress of King Henri, Diane de Portier. I was a fan of the TV show, Reign, which was part non-fiction, based on the royal family of King Henri in the 1500's. His favorite mistress (and he had many), Diane de Portier, has been a source of intrigue for many because she was both married to another man and twenty years the king's senior. Though many years older, she looked amazingly youthful, thanks to her regimen of mercury and swimming in the cold River Cher. After Henri's death, his queen, Catherine de Medici, took back this much coveted property from Diane, calling it her own, and eventually passing it down to her son's dowager queen to spend her mourning years in.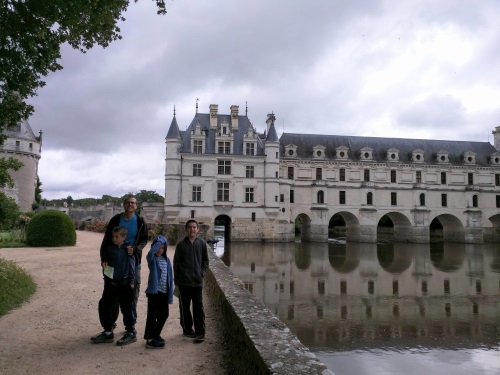 Chateau de Chenonceau, Loire Valley, France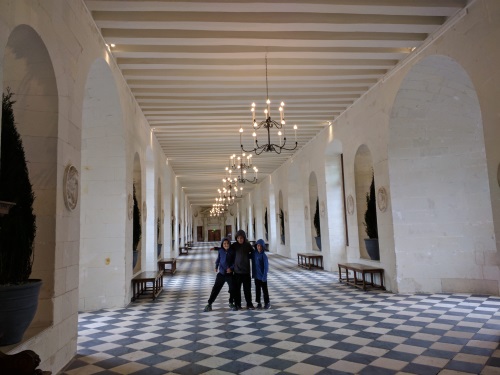 Inside the gallery that crosses the river at Chateau de Chenonceau
We went early (at opening time) to avoid crowds (of tour groups). This chateau has big and beautiful grounds. At the end of Diane de Portier's Garden, we got a full view of the castle in the background as it crossed the river. Catherine de Medici's Garden has a nice view too. I enjoyed visiting the kitchen the best, the boys the labyrinth. Go to the galleries which span the width of the river. Diane's bedroom was surprisingly simple and close to the front door.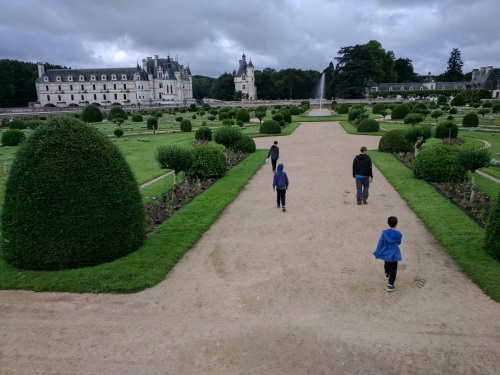 Enjoying the gardens at the Chateau de Chenonceau
We stayed in a gite 15 minutes away just outside the town of Luzille. It was a beautiful stone house, with wooden spiraling staircase to the attic, large fireplace, and exposed beams.
Practical Information (as of June 2018):

| | |
| --- | --- |
| Entrance Fee: | 14EU adults, 11EU kids 7 and over, Free for under 7 year olds. |
| Website: | Chateau de Chenonceau |
Website: Dinan
Les Machines, Ile de Nante, France
Les Machines is a workshop that builds robotic structures (usually animals) based on Leonardo da Vinci's drawings. During our visit, we rode a giant robotic elephant for 30 minutes. Within the elephants belly, we got to watch how the gears moved. Le Grande Elephant, as it is called, sprayed water as it went along to clear it's pathway, much to the delight of the visiting school groups. This was one of the highlights of our trip for the boys.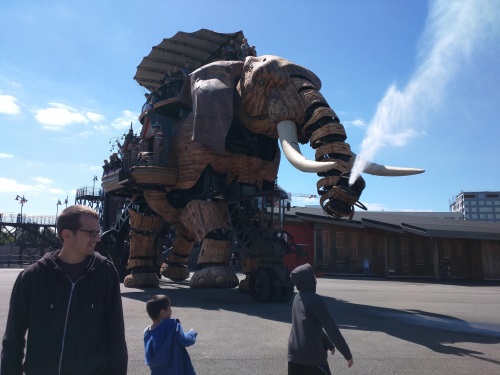 Avoiding the sprays of Le Grande Elephant
Enjoying the view from the top level of the Grande Elephant
The city of Nantes looks like an interesting stop as well. Its beautiful buildings lining the River Loire were very inviting, though we had to move on due to a shortage in time.
Practical Information (as of June 2018):

| | |
| --- | --- |
| Fees: | Family pass (2 adults, 3 kids): 31.80EU for a ride in Le Grande Elephant |
| Website: | Les Machines, Ile de Nante |
| Other attractions: | Carousel ride, view of Gallery of other machines, each requiring a separate ticket. Tickets to each of these allows you a view of the workshop (atelier) and the prototype of the Heron's Tree due to be ready in 2021. |