Gorge du Tarn and Viaduc de Millau
Gorge du Tarn
Our plan was to walk from the small town of St Eminie to St Chely du Tarn along the Gorge du Tarn. It took us awhile to find the trailhead, then followed the wrong trail which led us up the mountain to a non-descript logging road. But we did see the sign for a Sentiere (trail) to go to St Chely du Tarn from St Eminie. Coming from the East on bis D907, it was after the bridge that crosses the River Tarn in town (where the shops are), to the left after a small square (I mean small, a bench and a tree beside large recycling bins). It was going up a small paved road between houses, with a sign readable only when you're coming from the opposite direction. There was parking just before the sign after the bridge. Tired and hot, having gone on a 5 mile trail up a mountain which ended at an unremarkable logging road, we didn't check out the accuracy of St Eminie to St Chely sign, which indicated a distance of 4.5 km one way. Another sign indicated Castelbouc in the opposite direction in 6km.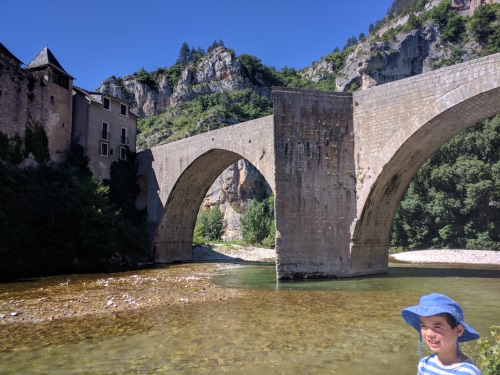 At the Gorge du Tarn at St. Eminie, under the bridge that leads to the trailhead to St.Chely du Tarn
Viaduc de Millau
Viaduc de Millau is a cable bridge structure that spans the Tarn Valley. At 343m (19m higher than the Eiffel Tower), it is currently (2018) the highest bridge in the world. A toll charge of about 10EU (for a private passenger car in summer 2018) is required to cross the Viaduc de Millau.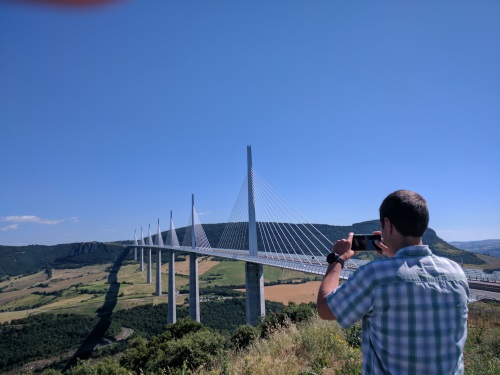 Highest bridge in the world, Viaduc de Millau, France