Calanque, Cassis, France
Calanque d'en Vau hike, Cassis, France
The Calanques are steep white cliffs jutting out of the Mediterranean Sea in finger like inlets. We started our hike near the seaside town of Cassis, at the Presqu'il where a large parking lot charged 8 EU for day parking. There was some street parking along the way but none that was available when we were there.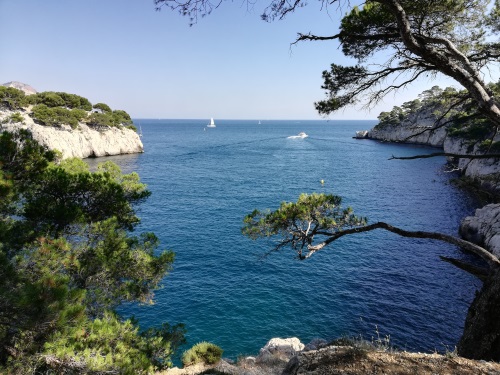 Walking along the Calanques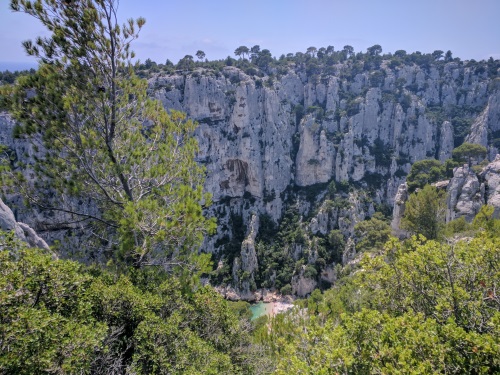 Calanque d'en Vau from above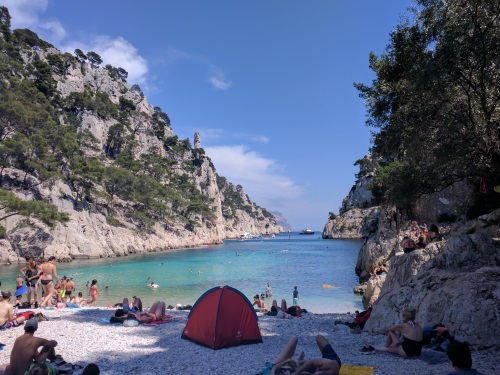 At the beach at Calanque d'en Vau, Cassis, France
We saw two small beaches in the Calanques, Calanque du Pin and Calanque d'en Vau. Both require some walking to the beach on somewhat slippery rock. The first beach, Calanque du Pin, had more young kids and their families. Bring lots of water. There was no potable water along the trail nor did we see any at the beach. We ventured off to one of the quieter trails to check out the view of the Calanques from above.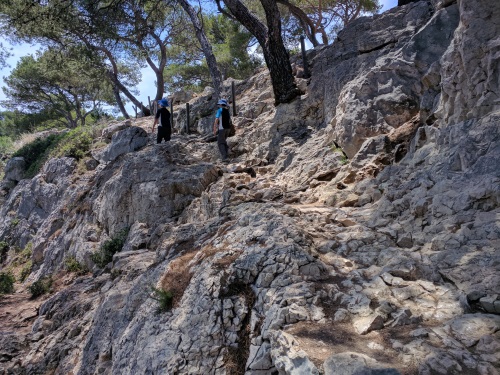 The trail leading to Calanque du Pin
Calanque d'en Vau is double the distance of Calanque du Pin and requires a climb down, (then up), a slippery, almost vertical wall. There was a pathway, with footholes, toeholes and handholes, so it was manageable. Both beaches were busy, and so were the hikes there. I was surprised at how many people there were, given the long'ish hike (6 miles rt) and the not-that-easy climb down. But amazingly, people were carrying all their beach amenities with them (tent, cooler) all the way down, in their swim suits and hiking shoes on their feet.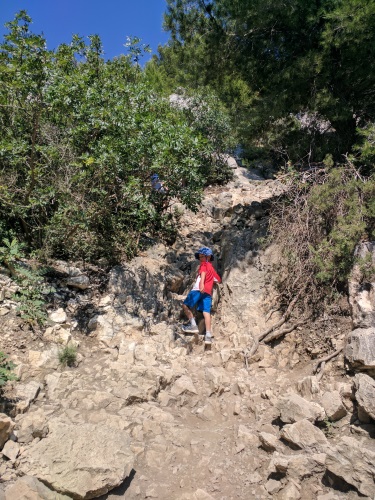 Near the bottom of the 'wall', climbing up from Calanque d'en Vau
Practical Information (as of June 2018):

| | |
| --- | --- |
| Features: | Blue green Mediterranean Sea juxtaposed against greyish spires of limestone cliffs |
| Parking fee: | 8 EU at Presqu'ile |
| Entrance fee: | Free |
| Our hike: | 6 mile rt, 1000 ft gain, very slippery, rocky terrain, some almost rocky vertical terrain, somewhat slippery rock sections |