Brittany and Mont-St. Michel
Dinan (Medieval Walled City)
Dinan, my favorite of the three walled cities we visited in Bretagne, is a walled city that people actually live in. It's city walls date back to the 13th century and has survived many attacks since then. Many of its half-timbered homes also date back to the 13th and 14th centuries. Dinan also has a fortified chateau. More on all that Dinan has to offer in the website at the end of this section.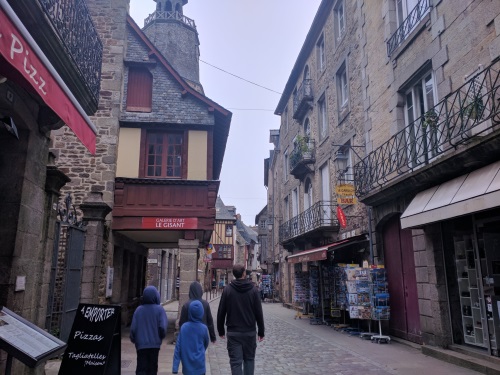 Walking Dinan's cobblestone street
There are many walks in Dinan; a walk on the rampart wall (dating back to the 13h century), a walk along the river Rance under an arched viaduct, and an in-town walk along beautiful narrow cobblestone streets lined with colorful half-timbered houses. I had a list of different walks I wanted to do while in Dinan, but once there, we gave in to curiousity and wandered where our hearts desired while stopping in at boulangeries that had long line ups. We did walk the rampart on Chemin du Ronde, up Rue de Petite Fort and did a short walk along the shores of the River Rance.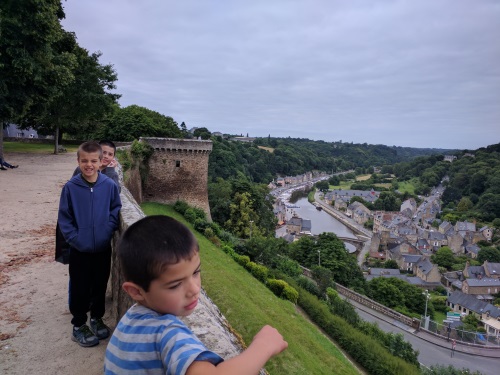 View of the Port from atop Dinan's rampart
We stayed in one of the half-timbered houses, with narrow, spiraling wood stairs. The apartment was completely renovated with a washer and a small kitchen. The half timbered houses are larger on top than on bottom, mostly to reduce the owners' tax obligation, since taxes were paid on the plot of land on the ground. We spent a few hours wandering the rampart, city streets and along the river walk while trying out the local specialties of the region: crepes and kouign amann (a flaky syrupy buttery pastry). Other local delights we tried: chestnut and rhubarb spreads, fromage blanc for breakfast and a few other creamy fromages on our baguettes for lunch. I wouldn't call myself a cheese lover, but I have had some of the best cheeses I've ever had.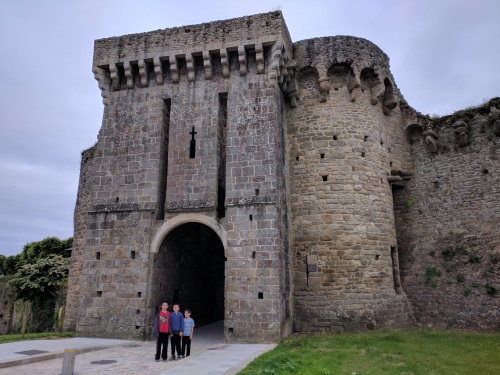 In front of one of Dinan's old city Gates
We found free parking on the Rue de Quai (a little ways away from the small old bridge, though it was a steep, but short uphill walk (15-20 minutes) into centre historique via Rue de Petite Fort. If you don't mind paying to be in the centre historique, there is an underground parking lot under the Bibliotheque Municipale which was fairly easily accessible from the paved road (D795) entering the city. If you are walking on the cobblestone streets of Dinan, try your best to stay on the sidewalks so you don't get in the way of fearless drivers. If you are driving, watch out for awe-struck, oblivious tourists walking the streets.
Website: Dinan
Plougrescant
I have to admit, I saw a picture of a house built between two giant granite rocks (called Castel de Meur ) and I had to see it in person. We took the trail about 1.5 miles each way, starting just west of the Castel, and heading east. Our trail went along the coast for a short time, but then took us along the road soon after. The parts by the coast were pretty with wildflowers blooming during our visit in mid June, but all in all, I wouldn't necessarily make a trip just for it if I wasn't already in the area.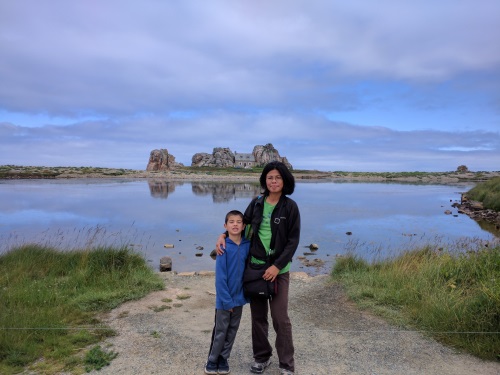 Castel de Meur, house built between rocks on the Cote Rose, Plougrescant, France
Overlooking the Bay de Morlaix in Northwestern France, the Great Cairn of Barnenez is a neolithic funerary monument built without mortar. At 6,000 years old (around 4500 BC), these structures predate the Egyptian pyramids. They are actually two stone cairns built a few centuries apart. There are 11 passageways which house the remains of different families. Most of the passageways are closed to the public. These Cairns were discovered when the rocks were quarried in the 1950s. It was an interesting structure to visit, though only a limited amount is known about it.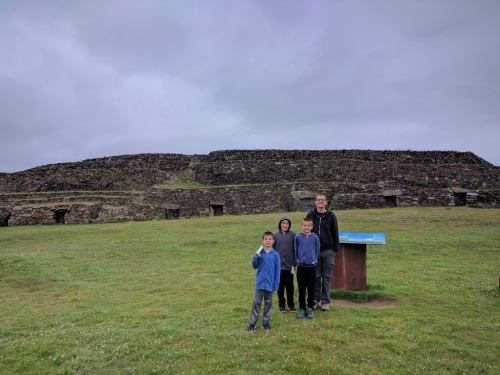 In front of 6,000 year old Great Cairn of Barnenez
Mont Saint Michel
Located off the coast of Normandy in the English Channel, Mont Saint Michel is an island only when the tides are high. Mont St Michel started as a monastery for hermit monks in the sixth century. Monks would cross the Bay of St Michel, risking their life to the highest tidal currents in Europe in search of spiritual enlightenment. Since then it has served many different purposes: a fort, a prison, a town and now a tourist attraction. Today, only 30 people live on the Mont full time. You may walk on the causeway (bridge) or take the shuttle bus across to Mont Saint Michel which is about 1 mile each way, depending on where you've parked. I was hoping to walk on water on the bridge over the mudflats, but the tides did not cooperate. I have read several warnings against walking on the mudflats since it acts like quick sand. At the top of the Mont, a 1000 year old Abbey awaits. It is a steep climb to the Abbey, about 20 minutes from the left entrance gate.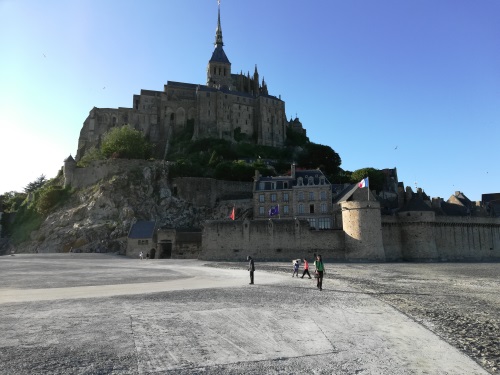 Approaching Mont Saint Michel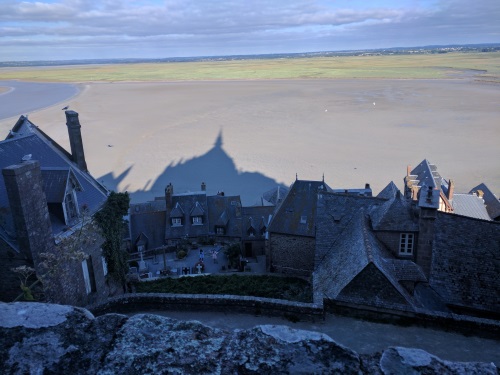 A view from within Mont Saint Michel, overlooking a cemetery, town and the mudflats
We walked on the ramparts, taking in a view of the mudflats from rampart and looking at stores which were on different levels connected by stairs. Within the walls, there was a cemetery, a church (aside from Abbey), restaurants and even a vegetable garden.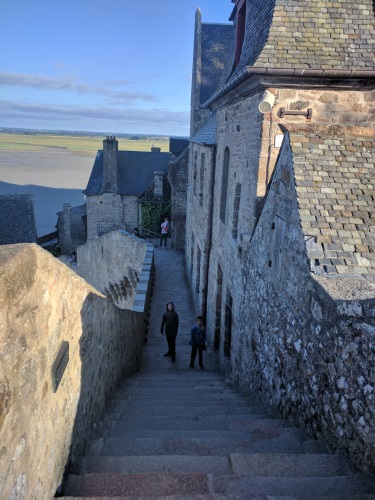 A view from the rampart at Mont St Michel, France
Having read that it is best to avoid the Mont between 10am to 4pm due to crowds, we arrived around 6pm, For us, it was a quiet city though many stores were closed. There were still a few souvenir shops open, along with some restaurants. We went just a bit too late for the Abbey which closed at 7pm. We had fun just exploring the nooks and crannies of Mont Saint Michel. We spent about 2 hours exploring, probably could have spent more time there if we had it.
Practical Information (as of June 2018):

| | |
| --- | --- |
| Parking Fees: | Up to 24 hrs 11.70EU. First 30 mins free. Price changes to 4.30 EU at 7pm. Less than 2 hours 6.30EU, Parking price includes free shuttle. |
| Entrance Fee: | Free to the city, fee for the abbey |
| Website: | Mont St. Michel Abbey |
Menhirs de Carnac
Brittany is littered with many Stonehenge-like rock alignments. One such alignment is the Carnac Alignment, known as the Menhirs de Carnac. The Carnac menhirs are made up of several different menhir complexes making up the 4km of rock alignment. The word "menhir" means long stone in the Breton language. The theory is that these menhirs represented burials of Neolithic people's 6000 years ago, though no human remains were found. We walked along the pedestrian trails running along the menhirs about 1 mile each way. There is more trail to walk if you are inclined to explore further. There is a visitor center building across the street from the menhirs with some information on the menhirs in French and a rather large gift shop. Not much information is known. Fee: Free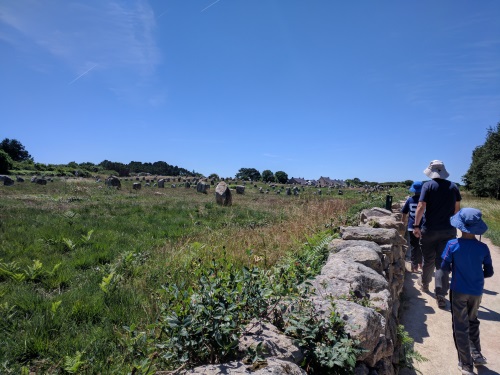 Walking along 6000 year old rock alignments called the Carnac Menhirs
Carnac Beach
After the menhirs, we headed out to the beach, a 15 minute drive away to touch the Atlantic Ocean for the first time. We were lucky to have gone on a low tide cycle, the water was calm, clear and perfect wading depth.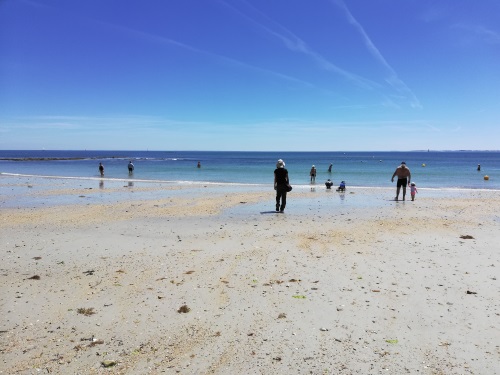 Touching the Atlantic Ocean for the first time, at Carnac Beach
Vannes
Vannes was our third walled city in as many days. Vannes was similar to Dinan with bigger streets and fewer timbered homes. The rampart was being repaired in parts so we only got to walk on short segments of it. There is a beautifully landscaped garden just outside the town wall. I'm sure there are many other things to see in Vannes, but the day was wearing us down and we decided to call it a day.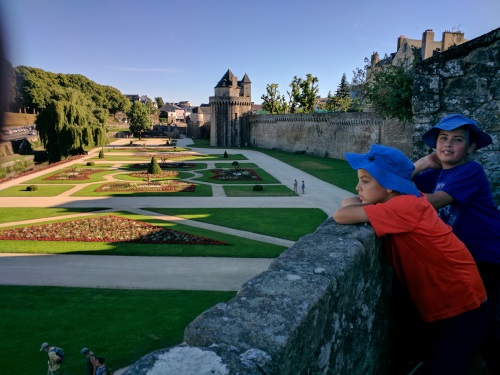 View of the Rampart gardens from the Ramparts, Vannes, France