Bordeaux, Dordogne and Carcasonne
Bordeaux
Known as a famous wine-growing region, Bordeaux is an important port along the Garonne River. Its streets are lined with stately buildings and many cafes. Bicycles rule the roost here, both in Bordeaux and La Bastide, across the water. We parked in La Bastide to avoid Bordeaux's traffic and walked across the bridge, admiring the view of Bordeaux's very elegant buildings while crossing the Garonne. Parking was fairly inexpensive at 3 EU for 1.5 hrs. We walked to Place du Bourse and back, admiring the very French buildings along the way. Parking was available near the pedestrian bridge but was difficult to get to given the many traffic revisions in the area. We tried the Bordeaux specialty cannale, and of course some wine. Cannales tasted like more cakey version of kouign amann from Dinan, but flavored with rum. I wish we had more time to wander around Bordeaux but the caves awaited us.
Dordogne - Caves of Ancient Art and Rock Shelter
France is known for its ancient 15,000 to 30,000 year old cave paintings. We saw many road signs of different caves when driving through the Dordogne region. We visited 5 caves on our visit. Each had a slightly different twist. Unfortunately (or fortunately), all of the caves we visited featuring cave paintings did not allow pictures, so the pictures I have exist only in my memory. It is a good idea to carry a jacket as all caves were cool inside (10-12C or 50F).
Abri Cap Blanc
About 2.5 hours from Bordeaux sits a shallow cave called Abri Cap Blanc. Abri Cap Blanc is a Cro-Magnon shelter from 15,000 BC. The Cro-Magnons were an early European population of modern homo sapiens (human beings) who lived between 40,000 to 10,000 years ago. More on Cro-Magnons here. Abri Cap Blanc is made up of a 13 meter (40 ft) wall of large sculpted animals. Bisons were drawn first, then the space re-used to draw horses. Abri Cap Blanc is also a tomb of a Magdalenian girl from 15,000 BC. The remains of the girl, now resides in the Field Museum in Chicago, Illinois, U.S.A. Reservations are possible by email, but payment has to be made on same day (as the visit) at Font de Gaume lobby. It took us about 20 minutes from ticket pickup to drive over to the Cap Blanc parking lot and to walk/run down the 200m (0.12 mile) walk to the Cap Blanc Visitor Center. The recommendation is 30 minutes, which is good advice if you prefer to not rush. Ours was a French tour, but they had an English translation sheet. Our guide spoke English too, so he translated what he said after the French version since there were more English speakers than French in our tour.
Practical Information (as of June 2018):

| | |
| --- | --- |
| Tickets: | 8eu adults, kids free |
| Address: | Abri du Cap Blanc, 24620 Marquay, France |
| Website: | Abri Cap Blanc |
La Roque Saint Christophe
Less than 30 minutes from Abri Cap Blanc, La Roque Saint Christophe is a 1 km (0.6 mile) long, 80 m (265 feet) high medieval town and fortress built into a limestone cliff overlooking the River Vezere. The cliff dwellings span 5 storeys, inhabited since 55,000 BC (by Neanderthals to Cro Magnon man) to 1580s when it was destroyed in a war. It is the largest natural rock shelter in Europe. The exhibits included reconstructions of what the medieval town would have looked like, from a church to a blacksmith's workshop to a butcher's block embedded in the rock, to human-powered machineries used to hoist things up the cliff wall. The front of the cave itself had walls built to protect the inhabitants from attack. There were also remnants of stone stairs used to link the different levels of the old village. The medieval town, at its peak, would have supported hundreds of homes and about 1000 inhabitants. As we walked along the terrace, we noticed the commanding views for miles around, combined with the natural rock wall structure, both factors that make this cliff a good fortress for protection against invaders. As we left the area, we noticed an area at the bottom of the cliff peppered with more remnants of human shelters of the past.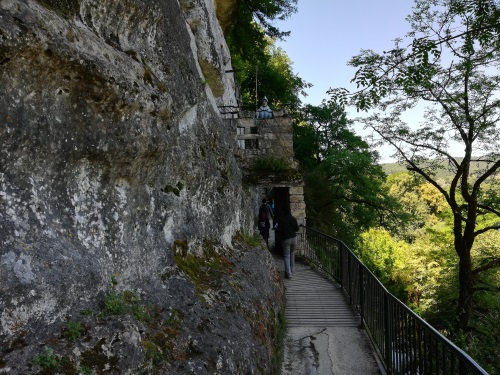 Narrow entry way into the fortress of Roque Saint-Christophe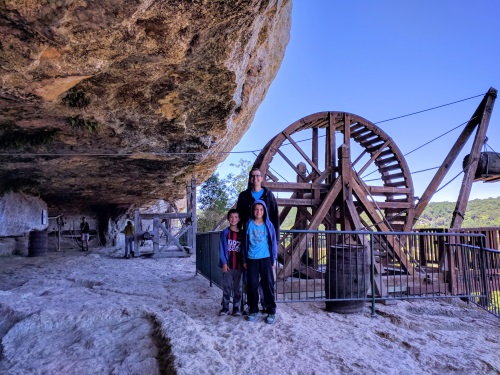 Machineries to hoist supplies up cliff to the village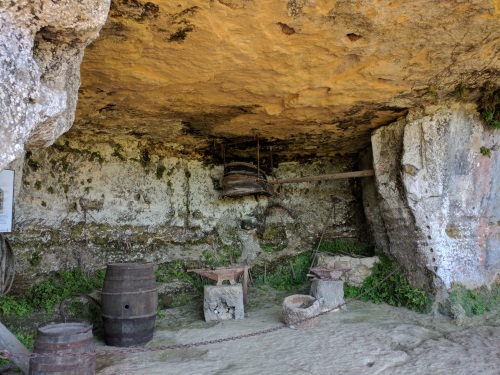 Blacksmith's workshop in the cliff wall
The visit is self-guided and the exhibits explanations are available in English. It took about 1.25 hours to visit the one level open to the public from mostly medieval times, but the last exhibit was from Neanderthal times (which was a little cheesy, in my opinion, but informative, nonetheless).
Practical Information (as of June 2018):

| | |
| --- | --- |
| Tickets: | Adults 8.75 EU, Kids 5 EU |
| Address: | La Roque Saint Christophe, 24620 Peyzac-le-Moustier, France |
| Website: | La Roque Saint-Christophe |
Peche Merle
Pech Merle is a cave about 2 hours away from Roque St Christophe. It contains cave art from 25,000 years ago amongst enormous stalactites and stalagmites. I enjoyed the stalactites/mites just as much as the cave art. There are a few smaller drawings in Pech Merle such as hand drawings created by blowing pigment onto the hand to make hand stencils. The feature of this cave is two large dotted horses, measuring about 4m (13ft) in length. The idea of a few artists from 25,000 years ago, crawling in some cases, with their animal fat torch lights, coming in to this dark cave and spending hours to paint these animals is pretty amazing, and gives us a small insight into their lives. Unfortunately pictures were not allowed in Pech Merle either. We caught the 4pm English tour; they allowed us to switch from our 5pm French tour since they was room. It made a huge difference for us being able to understand every word spoken, and not just the gist of things with my minimal French language skills. We hiked the ½ mile each way to the nearby town of Cabrerets after our guided tour. It was a rocky, somewhat steep hike. I am glad we did it, but knowing what we know now, I wouldn't have felt like we missed too much if we hadn't.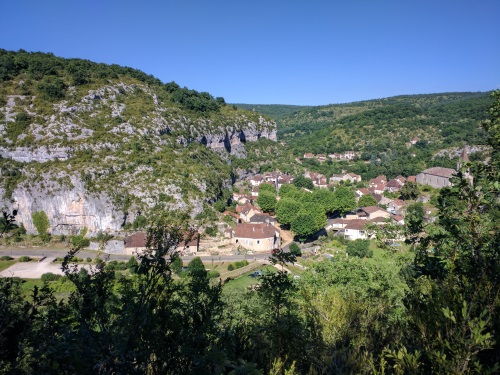 The view of the town of Cabrerets from the trail from Pech Merle
Practical Information (as of June 2018):

| | |
| --- | --- |
| Tickets: | Reservations highly advised. 13 EU Adults, 8EU Kids 5-14 y.o |
| Directions: | Access from the A20: the nearest exit is access n° 57 (Cahors Nord), then follow the signs "Grotte du Pech Merle" or "Saint-Cirq-Laptd> |
| Website: | Pech Merle |
Grotte de Niaux
Grotte de Niaux is located halfway up a mountain at an elevation of 678 m (2200 ft), in the northern foothills of the Pyrenees mountain range. Grotte de Niaux contains cave art dating from 13,000 to 14,000 BC, drawn by the Magdalenian people (who lived in Europe around 12,000 to 18,000 years ago) during a time when glacier would have occupied most of the valley below. The cave itself extends 2 km but paintings start at 500m from the entrance. There are over 100 drawings and engravings in Cave de Niaux, of bisons, horses, ibexes and the like. There were many "canvases" in the cave of bisons and horses drawn at different times. The bisons from 13,000 BC and horses from 14,000 BC. There are also claviforms (an abstract prehistoric sign consisting of a line with a half circle at the top) in red ochre to be found in this cave. Claviforms are believed to have been created 22,000 years ago and after, mostly by the people living near the Pyrenees. The terrain for the guided tour was uneven, even slippery in some parts. There was some puddle jumping in darkness required, though a torchlight is provided. The tour lasted 1.5 hours. This cave tour needed reservations. My reservation indicated an English tour after I reserved it, but I had suspected it was in French, which it was. I was able to decipher most of what was said whenever she spoke slowly enough. I believe there were also English tours available.
Practical Information (as of June 2018):

| | |
| --- | --- |
| Tickets: | Required. Adults 12EU, Kids 8EU, Family pass 37 EU |
| Website: | Grotte de Niaux |
Grotte de Limousis
Grotte de Limousis is a natural cave with many varied formations. As we walked into the entrance, we could smell the fermenting wines since we were walking through an old wine cellar. Our next stop was at a large room where there were clawmarks scratched into the walls by massive cave bears. Cave bears were about the size of a polar bear (males weighing about 1000 lbs and females about half of that). About 10,000 to 15,000 years ago, cave bears shared this cave with Cro-Magnon man (5.5 ft to 5.7 ft in height). Food remnants of Cro Magnon man are also displayed in this area of cave.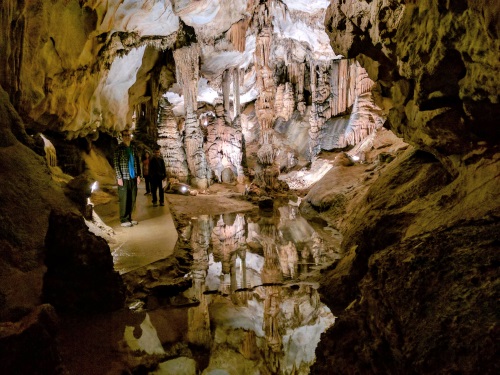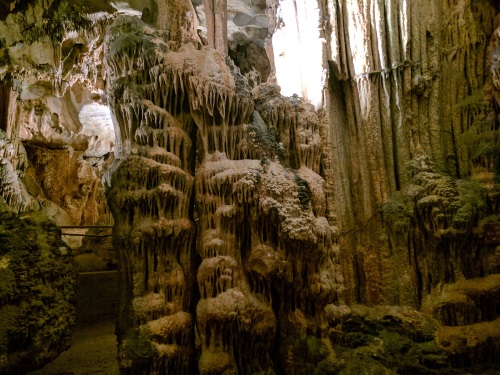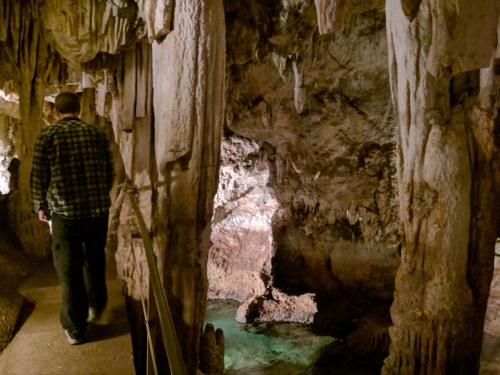 Grotte de Limousis, near Carcasonne in Southern France
Within Grotte de Limousis, there are two lakes and a stream or two, all beautifully decorated with columns (formed when stalagmite meets stalactite) and curtains (formed when mineral-rich solutions deposit their minerals while flowing along an overhung surface such as a wall of a cave). There was a great room or two where locals would hold parties and religious ceremonies. At the end of the tunnels hung a large aragonite chandelier from the roof of the cave. Of all the caves we saw, this one was probably my favorite due to the beautiful natural columns and curtains. It also allowed pictures and online reservations.
Practical Information (as of July 2018):

| | |
| --- | --- |
| Tickets | Adults 10.90 EU, Kids 5-13y.o. 6.90 EU |
| Website: | Grotte de Limousis |
Carcassone
Carcassonne is a refurbished walled city about 30 minutes from Grotte de Limousis. Though it serves mostly as a tourist attraction now, it has history from before the Roman times but it's outward appearance has changed through the ages. You will see it in the skyline as you make your way to Limousis, distinguishable by the blue cone topped towers added a few hundred years ago to add appeal. We had hoped to visit Carcassone but a severe lack of parking caused us to abandon our plans so that we would not miss our pre-purchased Limousis guided visit. Carcassonne is also in the middle of Cathar country and there are many Cathar castles located in the region which gave refuge to the Cathars during this dark period of history. Deemed heresy, the Catharism was a sect of Chrisitanity that was persecuted by the Roman Catholic Church of the time. The region of Languedoc was the site of the Albigensian Crusade or the Cathar Crusade, a 20 year military campaign with the goal of eliminating the Cathars, in the 1200s.
Practical Information (as of July 2018):

| | |
| --- | --- |
| Tickets for City Wall and Chateaux | Adults 9EU, up to 16 y.o. Free |
| Website: | Carcassonne |