Annecy and Dijon
Annecy
Known as "Little Venice of the Alps", those turquoise waters has been luring me in since I saw a picture a few years ago. Annecy has many waterways, turquoise in color in both the lake and the main canal. There were many shops lining the canals, many with colorful flowering pots upfront. There is a beach on the west side of the Lake Annecy. We noticed there were a few other beaches along the westside as we drove along towards Albertville. We spotted some white swans swimming in the lake. It looked like there was a pedal boat rental area too.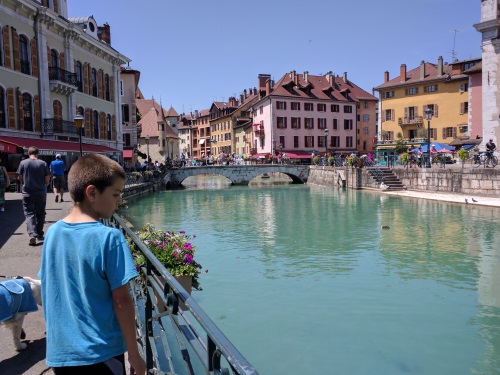 Mesmerized by the blue waters of Annecy, France
Annecy, at the northern shores of Lac d'Annecy, has been inhabited since 3100 BC. At the time, a Gallic tribe called it home. In the 1st century BC, the Romans conquered Annecy. Since then, it had been ruled over by many different Lords. The Palais de L'ile, a boat shaped stone structure in the middle of the River Thiou, is a former residence of the Lords of Annecy in the 12th century. It was then repurposed to be an administrative center of the Lords of Geneva, then used as a prison until 1865. Today it is a museum.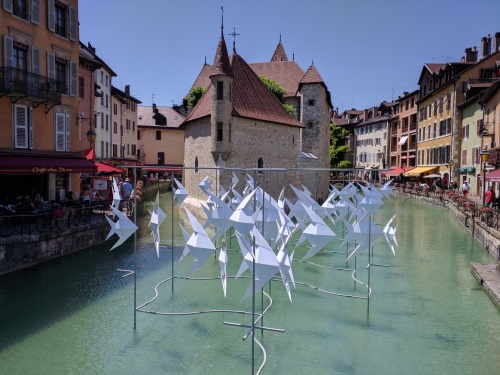 Palais De L'Ile, Annecy, France
Dijon
We stopped in Dijon for two nights on our way to Paris. Having sampled some extra-fort mustard in and around France (some of the strongest mustards I have ever had), I was excited to see the city where Dijon mustard was born. The mustards available here were plentiful in variety, offering cassis (black currant local to the area) to black pepper mustard as flavors. Dijon mustard was born in 1856, when Jean Naigeon of Dijon substituted acidic grape juice for vinegar.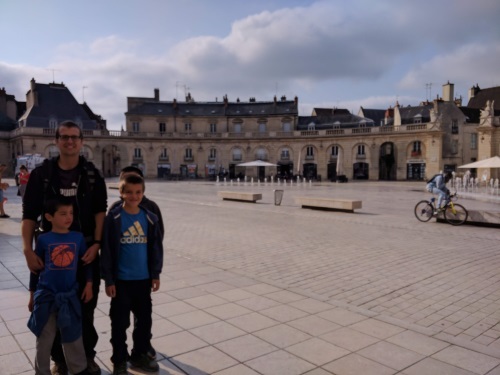 Place de Liberation, Dijon, France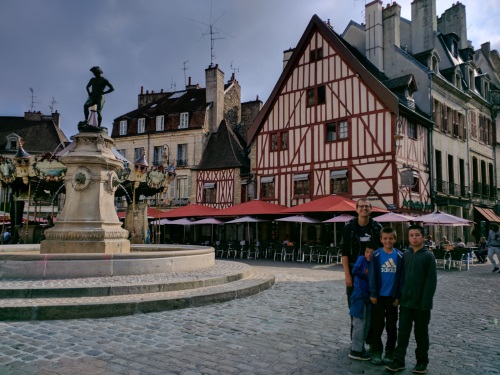 Old Town, Dijon, France
We were also excited about the free museums in Dijon. We did a walkabout in the city to visit the Place de Liberation, Musee Des Beaux Artes, Musee de la vie Buorgogne, Musee d'Artes Sacree, St. Benignon Cathedral, Musee d'Archaeologie and Les Halles (the marketplace designed by Gustave Eiffel). The museums were okay, but not overly impressive. To be fair, the Musee des Beaux Artes was partially closed due to renovations during our visit.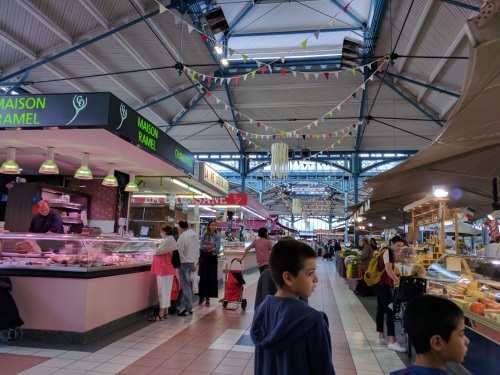 Les Halles, Dijon, France (designed by Gustave Eiffel)
We drove along the Route de Grand Crus on our way to Dijon, seeing vineyards as far as our eyes can see. I suppose people wine taste in this region, but with 3 kids in tow, that wasn't in our plans. All in all, Dijon was a good stop for a day or two. We tried some burgundy raisins (really juicy and flavorful), Cassis liqueur (currant liqueur) and a beautiful dessert called tropezone (sp?), a circular pie-sized sweet bread sandwiching a thick layer of rich cream. We also tried a condiment sauce called Sauce Bourguignonne which is made with red wine, onions and some herbs; I improvised and used it as a part of a braising sauce with stew beef, and got many compliments from the eaters in my family.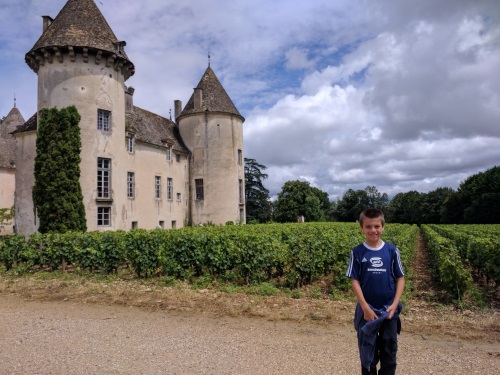 A castle not too far from the Grand Crus, near Dijon, France