French Alps
Parc de la Vanoise - Pont de Peche to Lac Peclet Polset
This hike was one of the best hikes I have done and one of the easiest 12-mike hikes I have done. The views of mountains, needle peaks, streams, several cascading waterfalls, blooming wildflowers and finally the blue lake at the end, kept me well distracted.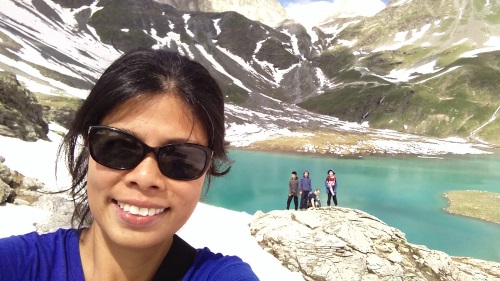 Approaching Lac Peclet Polset, France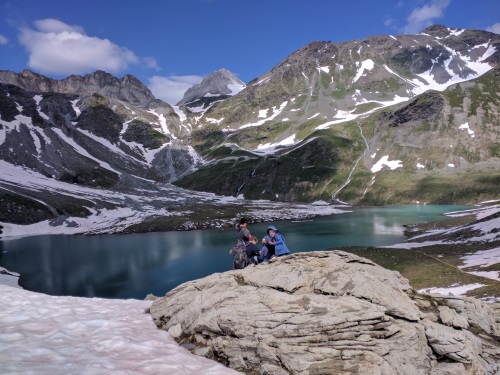 Our lunch spot at Lac Peclet Polset, France
There were some snowfield crossings and some stream crossings where I managed to get my shoes wet. We came across villages of marmots, herds of cows and goats, and a few donkeys along the way. We also walked by a cheese-making cottage or two that offered direct sales to hikers.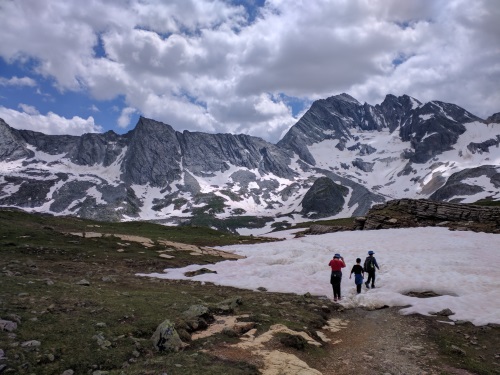 Snowfield crossing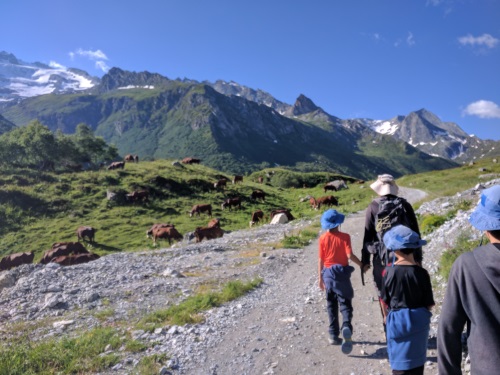 A herd of cows we met towards Lac Peclet Polset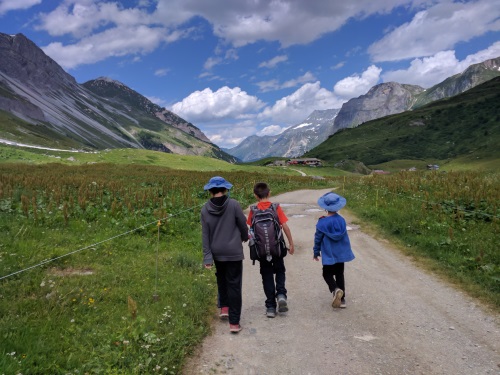 A cheese-making cottage to the right
There was a refuge (Refuge Peclet Polset) just before the blue lake, which provided a bed and/or breakfast to overnighting hikers. Prices started at 50-60EU per adult per night. The free large parking lot had a few spots available when we arrived at 8:30a.m., but was pretty full when we left 6 hours later. There were just a few people on the trail. This was one of the most memorable hikes I have done and it is the highlight of our entire trip for myself and my husband.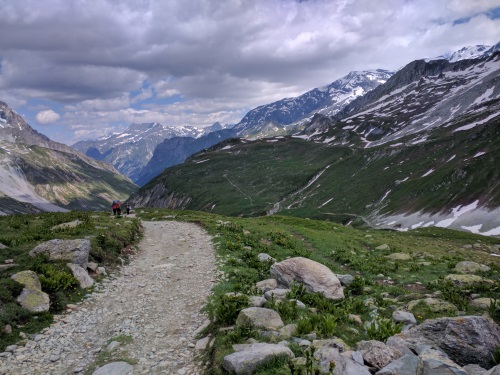 Wandering amongst the mountains
Practical Information (as of July 2018):

| | |
| --- | --- |
| Our hike: | 12 miles rt, 2460 ft elev gain, 6 hours rt including a 30-min lunch break |
| Trail head: | past Praglonan-de-Vanoise, at Pont du Peche |
| Fee: | Free |
Parc de la Vanoise - Lac du Tueda to Refuge du Saut
This hike we did as a last minute hike before the forecasted thunderstorms in the afternoon. It goes by Lac Tueda, up a fairly steep hill, then opens up into a flowering meadow, along a rushing river with some nice peaks along the way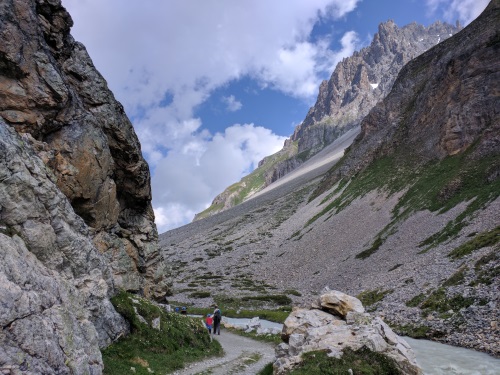 Passing through the mountains by a river from the Refuge du Saut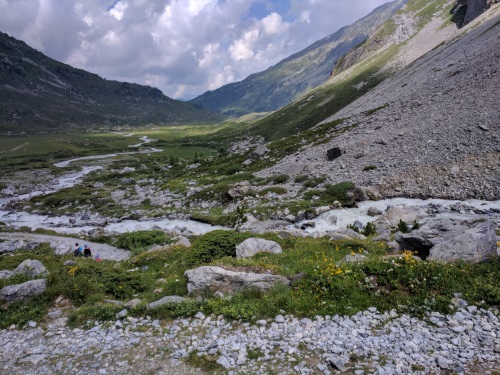 Wildflowers and streams in the meadow
The walk included a section on a snowy section. We started early at 8am and encountered minimal crowds along the trail and in the parking lot. On our way back, we encountered more hikers making their way in. It took us 4 hours to complete this hike, including an-enjoy-the-view break at our destination of Refuge du Saut. There is a restaurant both at Lac Tueda and Refuge du Saut, but you may want to bring some snacks anyway in case you show up when the restaurant is closed.
Practical Information (as of July 2018):

| | |
| --- | --- |
| Our hike: | 8 miles rt, 1600 ft elev gain, 4 hours rt |
| Trail head: | Lac Tueda |
| Fee: | Free |
Meribel Village
We stayed at Pierre Vacances Apartments in Meribel Village for about USD90 per night including all taxes and fees. Our apartment included a kitchen with a small oven, a dishwasher and 2 bedrooms. There were many remnants of 1992 Albertville winter games in Meribel and Courchevel. In Meribel Village, the restaurant was open, but grocery store (Spar) and boulangerie (bakery) were closed for the season. Meribel Village is about 20 minutes to the Lake Tueda trailhead and about 1 hour to Pralognan-la-Vanoise. The town of Bozel had more stores open compared to Meribel or Meribel Village. Normally we wouldn't be in town long enough to really be affected by store closures, except in this case, the weather forecasted thunderstorms on 2 of the 3 days we were there. (We experienced some infrequent thunders during the day but in the evening and at night, the skies lid up with lightning.) Our second favorite past time of grocery-store-exploring (the first being hiking) was cut short due to the scarcely stocked shelves (and what was there, was high in price). There was no meat in sight. If we were to do it over, we would purchase food in the towns below before heading into the mountains. There was lots of construction going on in this whole area so we encountered many trucks along the narrow winding roads. Despite these issues, the hikes we completed in this area is totally worth the trouble.