Kootenay National Park, British Columbia
Kootenay National Park is a smaller of the Rocky Mountains National Parks. If you paid the entrance fees at one of the other Rocky Mountain National Parks, that fee covers this park as well, as long as your entrance ticket is still valid by date. Kootenay borders Banff National Park on its (Banff's) southwestern boundary. We drove through Kootenay National Park on our way home. Kootenay National Park, near Radium Hot Springs is also known for hot springs you can bathe in. Highway 93, the highway we took out of Banff led us directly towards our next two stops.
Continental Divide, Alberta/British Columbia
The Continental Divide marker along Highway 93 forms the border of two provinces (British Columbia and Alberta), two watersheds (Pacific and Atlantic) and two National Parks (Banff and Kootenay). The Continental Divide by definition is a ridge that divides the direction water flows. West of this continental divide, water flows into the Pacific Ocean. East of the divide, water makes its way to the Atlantic Ocean. At this stop, there is a sign that marks the boundary. We had fun standing in two provinces, two watersheds and two National Parks at the same time. The boys had races from British Columbia to Alberta and vice versa. In retrospect, we should have conducted a water flow experiment at that spot...Next time!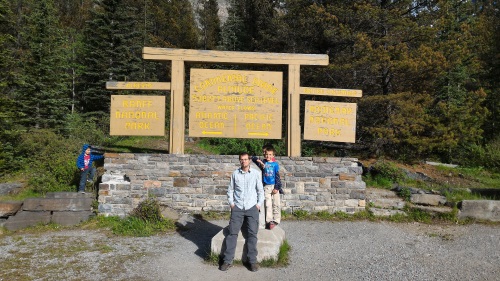 Standing on the Continental Divide, Kootenay/Banff National Parks, Canada
Practical Information (as of June 2016):

| | |
| --- | --- |
| Directions: | From Banff, along Highway 93S towards Radium Hot Springs, British Columbia, look for signs for the Continental Divide. |
| Features: | Stand in 2 National Parks, 2 provinces and 2 watersheds (Pacific and Atlantic) at the same time, Stand on the ridge that divides water flow to either the Pacific or Atlantic Oceans |
Marble Canyon
Near the beginning of Highway 93 at the north-eastern end of Kootenay National Park, not too far south of the Continental Divide, lies Marble Canyon Trail. Marble Canyon is a short 1.6 km (1 mile) hike over 6 bridges that cross a very narrow and deep (~100 feet deep) canyon. Despite its name, the canyon walls are not composed of marble but is made of limestone, though it is easy to see how it's name-giver could have made that mistake. Six bridges cross glacial blue waters rushing through the deep narrow canyon below.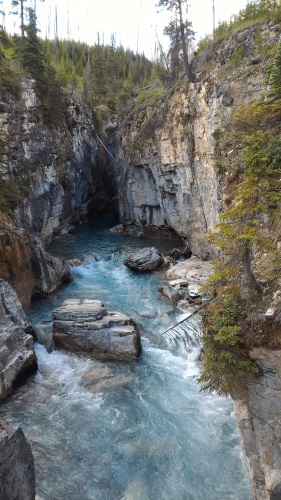 Marble Canyon near the first bridge, Kootenay National Park, BC, Canada
A surprise waterfall greeted us at the end of the canyon. The kids enjoyed crossing the many bridges to the surprise waterfall at the end. My previously protesting son enjoyed the hike so much he asked to do another hike that day.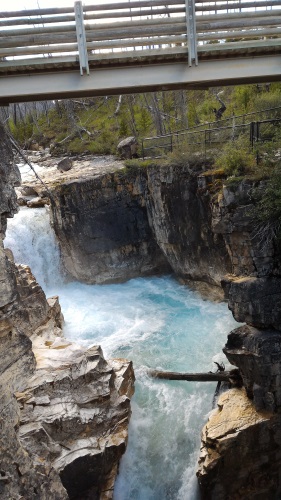 Surprise waterfalls at the end of Marble Canyon, Kootenay National Park, Canada
Marble Canyon is also a site of a recently discovered fossil bed. We did not have enough time to explore that aspect of Marble Canyon. A sign warning of unexploded explosives in the area prompted us to warn the kids from wandering away from established trails. This hike took us less than an hour to complete. There was a small parking lot at the trailhead. We did not have any trouble getting parking.
Practical Information (as of June 2016):

| | |
| --- | --- |
| Hike Distance: | 1.6 km (1 mile), easy, flat hike |
| Features: | Cross 6 bridges over a deep, narrow canyon with rushing blue waters within, waterfall at the end of the canyon. |
| Directions: | Along Highway 93S between Banff and Radium Hot Springs, south of the Continental Divide, look for signs along the highway |