Salzburg
The name "Salzburg" means Salt Fortress, owing its name to salt cargos being transported up the River Salzach. The first city (named Iuvavum) that occupied the area that Salzburg occupies today was founded by the Romans in 15 B.C. However the area has been inhabited by Celtic communities since Neolithic times. The name Salzburg was first documented in 755 A.D.
Hohensalzburg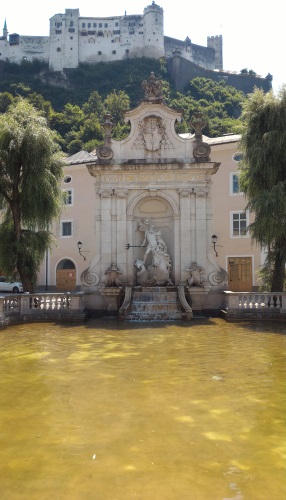 View of fortress Hohensalzburg from the city below
Overlooking the city of Salzburg is a fortress called Hohensalzburg. Its building began in the 1000s, although back then it very much looked like a farmhouse with fencing. As the years passed, and its function change, it began taking on a fortress appearance. Don't miss the audio guide included with the tickets, we found it very informative.
There are at least two ways to get up to Hohensalzburg. One is with the cable car which cost a nominal fee. The other is by stairs. Exploring the foot of the hill below the fortress, we found some stairs that climbed all the way up to the fortress. It was a nice way to see this part of Salzburg, as we passed by countless gelato shops, peoples' open windows, flower-potted balconies, while on a cobblestone path up to the fortress.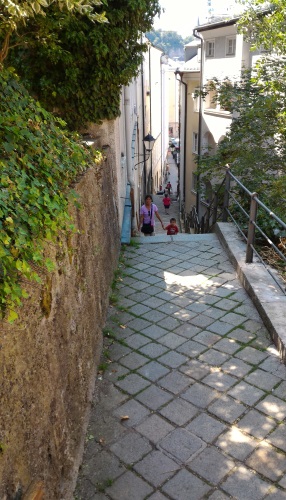 Stairway to Hohensalzburg Fortress, Salzburg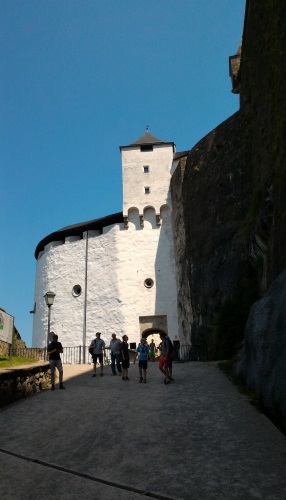 Approaching Hohensalzburg, Salzburg, Austria
In addition to walking around town, we walked along the Salzburg River, past many vendors, on a search for Mozart's residence and birthplace, and I am happy to report, successfully found it. By then, it was time to take our train back so we headed for the train station. I hear Mirabell Palace is also an attraction for those with more time.
Hallein Salt Mine
On the weekend that we rented a car, we visited Hallein Salt Mine in Austria. The tour started with visitors putting on coveralls and boarding a mine train to travel to the inner depths of the mine, just as miners once did. Along the way, there were two miners' slides (27m and 42m long), one boat ride over an underground brine lake, two underground boundary crossings, and a Celtic miner from the BC era who died accidentally in the mines and was preserved by the salt. Though some parts of it was more commercialized than it needed to be, as a whole, I found the salt mine visit both educational and exhilarating (thanks to the miners' slides). The kids loved the rides on the miners' train and slides. The Salt Mine ticket included a Celtic Village (which closes early) and free parking. Unfortunately, we did not have any pictures. Our camera, also our GPS, was running low on battery and we had to choose between taking pictures and finding our way home across the border to Munich.